MS container Cabin in Udaipur
MS container Cabin in Udaipur
Liftable mild steel cabins go hand in hand with rapid or makeshift structural development such as the primary requirements across construction sites and other domains. Metalspace Buildcon, the leading MS container cabins construction company in Udaipur takes prefabricated construction to the next level with its precision engineering of the high-tech liftable mild steel cabins in Udaipur which are perfectly synonymous with ultimate safety, robustness and sustainability as well as peak quality performance even in the harshest of conditions. As the top MS container cabin rooms supplier in Udaipur, our company responds to the depleting energy and material resource crisis and responds to the same with its sustainable and reusable mild steel cabin construction solutions.              
The Metalspace Buildcon mild steel portable sheds in Udaipur serve applaudable levels of energy efficiency, quality consistency, precision engineering as well as material savings all while minimizing wastage of resources as well as times. Delivering these enclosures at the best portable MS cabin price in Udaipur, Metalspace Buildcon is committed towards high-quality development which results in 100% client contentment every single time. We are fully dedicated to sustainable construction, material savings, process speeding and operational streamlining.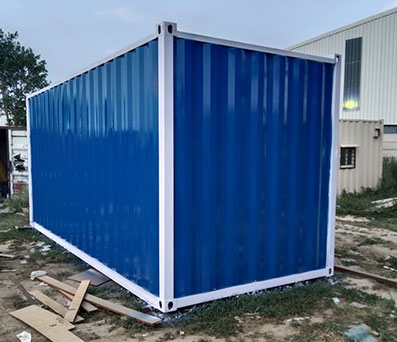 MS Container Cabin Applications
The competent range of prefabrication solutions from Metalspace Buildcon consists of a diversified portfolio of the best-in-class portable prefab cabins in Udaipur which are fully customizable and fit for client specific needs. Offering great design flexibility, these cabins can be used as porta office enclosures, living shelters for workers, container cabins for storage, small office facilities as well as control rooms.      
MS Container Cabin Features
The mild steel cabins offer greater safety, security and protection for indoors from all exterior conditions and can be used for storage as well. Some of the top features of Metalspace Buildcon container shelters include –  
All-weather safety
Rigid design and construction
High tolerance and durability
Lightweight mild steel frames
Easy to maintain
Complete with amenities
Adequate insulation possible
Easy to transport