Sustainable PEB industrial shed structures built to last
India's industrial sector faces a tremendous wave of infrastructure development and expansion owing to the wide scale technology emergence in the nation. Emerging to be the top manufacturing hub in the region, India faces an uphill task to accomplish its targets of rapid urbanization and it is through the development of pre-engineered industrial shed buildings in India that we can be capable of reaching the set goals within stipulated timescales. As the leading industrial sheds manufacturer in India, Metalspace Buildcon follows construction of PEB warehouse components in its dedicated climate-controlled, innovative, sterile and efficiently operated off-site factories which feature improved safety conditions and enhanced testing standards. Each of our design and development processes orchestrates the pinnacle of cutting-edge construction technology and our processes are symbiotic with lean, swift and efficient construction methodologies which not only help reduce development costs but mitigate quality inconsistencies significantly.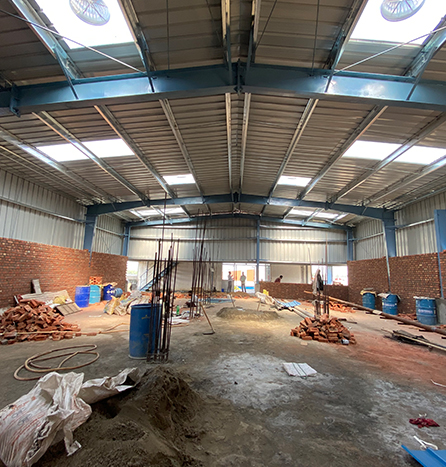 At Metalspace Buildcon we are driven by an undying passion and a strong resolve to bring revolution across the infrastructure development industry. Our efforts are driven by an unhindered commitment towards quality, sustainability and durability which reign supreme as the hallmark features in our pre-engineered steel industrial sheds in India. Our factory enclosures uphold the key attributes of scalable building development progress and are designed as per specific client input to deliver bespoke tailored advantages. Each of these PEB factory enclosures in India is purpose-built to suffice unique functionalities and we employ highly efficient processes of development which help reduce construction wastage and times by more than 45% while resulting in significant cost savings as well. We strive to target robust and innovative engineering excellence unheard of in the sector and unattainable for our competitors.        
PEB Industry Sheds Features
Defined by a lean construction technology and with strong focus on sustainability, Metalspace Buildcon development of PEB industrial shed buildings in India is intended to simplify and streamline industrial infrastructure development. These heavy-duty sheds are supported by steel metal truss frames and enveloped in insulated composite panels for added weather resistance and peak ergonomic benefits. We take advantage of smart methodologies to make possible the best performance and longevity features from these buildings. As the leading PEB industrial sheds company in India, our commitment towards energy efficiency and wastage reduction is applaudable and we push the boundaries to ensure that clients cherish the following features from our high-tech PEB steel meta industry sheds in India –     
Easy design alternations and architectural flexibility
Simple layout changes for diverse utility scopes
Enhanced structural strength and long-lasting durability
Minimal to zero maintenance requirements   
Steel industry sheds are 100% recyclable
Easy portability for reusing structures
Indoor manufacturing to protect environment   
Healthy and sustainable enclosures   
Twice as fast to develop than on-site industry sheds
Reduces site labour requirements   
Sectional frame standardization for easy repeatability    
Better budget certainty and predictability   
PEB Industry Sheds Application Areas
Our steel framed industry shed structures can be designed as single slope buildings, multi storey enclosures, crane structures as well as standard industrial shed enclosures to suffice a wide array of utilization scopes. Spearheaded by a team of veteran engineers and designers, Metalspace Buildcon as the best PEB industry sheds company in India caters to industries, commercial institutes, agricultural powerhouses and public sector clients with its pre-engineering solutions which prove valuable for accomplishing high-end infrastructure development. Our steel framed enclosures have forged an undying reputation for being the best-in-class and their enhanced design flexibility makes them suitable for fulfilling a wide range of construction applications which include the following –     
Factory buildings and manufacturing plants  
Workshop sheds and steel rolling mills
Automobile, aeronautical and ship building industry   
Sugar mills, small-scale factories and quality testing facilities
Pharmaceutical manufacturing and electronics assembly industries