Energy Efficient Panels with Superlative Insulation Properties
Thermal insulation enveloping solutions for buildings have witnessed a perpetual innovation and enhanced scopes of adoption over the past few years. With a rising concern for energy crisis and resource depletion resulting in a strong response to tackle climate change, infrastructure development solutions have faced a total revamp and the preference of sustainable alternatives and efficient resources has gained major traction across all facets of this domain. The design and development of PUF panel sheets in India by Metalspace Buildcon is a vital endeavour in this regard and furnished a state-of-the-art range of product solutions which help enable peak standards of energy savings, better interior comfort, enhanced aesthetics as well as overall greater safety and longevity.
A PUF insulated panel in India is formed of dual metal layers sheets encasing a dense Polyurethane Foam core material.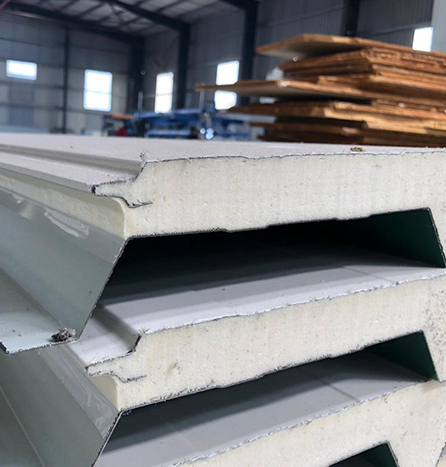 PUF material is proven to be effective in insulation performance across a wide temperature range and with very high R-values enabling exceptionally low thermal conductivity, the use of these panels ensures optimum temperature retention thus resulting in peak energy savings. The PUF panels manufacturer in India Metalspace Buildcon offers these solutions in wide range of specification to suit diverse client requirements. Our unique PUF panel designs allow for easy installation and rapid turnover times with a focus on improving overall affordability of our products.   
PUF Insulated Panels Features
The modern lightweight and durable PUF sandwich panels in India from Metalspace Buildcon are suitable for application even in extreme temperatures and being developed rapidly, help fast track infrastructure development projects significantly. As composite insulation panels are proven methods to improve site productivity and quality consistency, we make sure to target faster build speed with our PUF panel installation.      
We manufacture these PUF panel sheets in India completely in-house and deliver the same with following unparallel features and advantages –           
Fast and easy installation
Optimum thermal insulation
Economic and affordable solutions
Improved aesthetic properties
Acoustic insulation benefits
Higher fire resistance
Greater impact safety and longevity
Air and water tightness    
Flexible dimensional specifications
All-weather safe panels
Corrosion and termite resistance
Sustainable, reusable and 100% recyclable
PUF Panels Application Areas
The high-quality composite PUF panel sheets in India manufactured by Metalspace Buildcon suffice a plethora of building development applications across residential, commercial, industrial as well as agricultural sectors. As a leading PUF panels supplier in India, MBPL practices pioneering innovation in order to excel in its striving for peak sustainability while ensuring unrivalled customer satisfaction. As the best PUF panels company in India, we maintain operations that orchestrate the pinnacle excellence in design, engineering, research and development. Stated as follows are the top applications that our composite PUF panels in India serve –               
Wall, roof and ceiling cladding    
Warehouse, commercial and institutional building panels    
Industrial building insulation panels   
Cold storge and clean room insulation envelops         
Partition walls, false ceilings and column or beam covers