Completely Sound Proof Enclosures for Added Ergonomic Comfort
Building acoustics play a vital role in the overall ergonomic performance of a structure and by allowing for a higher degree of sound or noise blocking of the interiors of any structure, it can be made feasible for long-term occupation. In industrial and heavy-duty machinery operated environments, to enable better safety and health standards of the occupants or workers, it is every bit imperative to maintain complete noise proofing for the areas in order to make sure their safety and high productivity. In a factory production environment with consistent noise generation for machinery operation, preferring for acoustic enclosures in India can prove to be a viable choice as it will prevent the indoor noise from polluting the environment and thus ensures that industries are able to comply with the safety and performance regulatory standards. As the top acoustic enclosures manufacturer in India Metalspace Buildcon relies on its extensive expertise to produce best in class soundproof cabins in India.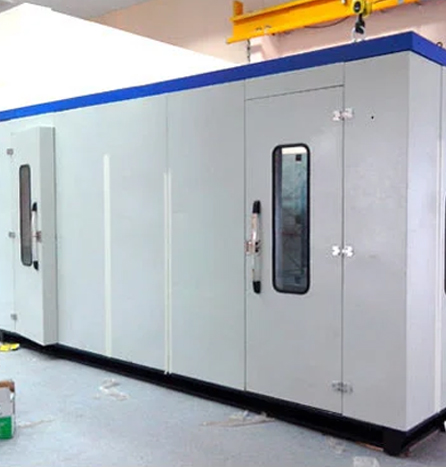 Enveloped and encased in leakproof acoustic panels in India which are formed of a dual metal layered outer core within which dense sound blocking materials are sandwiched, these prefabricated soundproof buildings in India are in high demand across industrial sector and also have a vital application scope in prefabricated construction of auditoriums, institutional facilities and sensitive testing facilities. By obstructing a major percentage of the noise being generated by machinery and equipment, it becomes possible to keep ambient sound levels to a bearable level and this ensure vital environmental sustainability advantages. Our prefabricated sound proof buildings in Indian developed with modular off-site construction methods reduce process inefficiencies and material wastage significantly while proving to be very affordable as compared to traditional structures. At Metalspace Buildcon, the top prefabricated acoustic buildings supplier in India, we employ cutting-edge sustainable construction processes and employ use of reusable material choices such as steel which add to the overall advantages that clients gain from these buildings.
Acoustic Enclosure Features
Soundproof cabins in India from Metalspace Buildcon combine highly innovative and functional deigns with an efficient process which results in peak advantages of cost and time savings as well. Eliminating excess noise emanating from machinery of heavy-duty equipment by proper use of acoustic panels in India in purpose-built enclosures is a vital feature. Committed on delivering accelerated project schedules and maintaining high levels of process streamlining, we have been able to manufacture acoustic buildings with the following features –         
Complete sound proofing
Leakproof designs
Corrosion and all-weather safe enclosures
Seismic resistant soundproof buildings
Fire safe and moisture resistant   
Ultimate longevity and exceptional durability
High energy efficiency in development and service    
Minimal to no maintenance needs
Architectural and design flexibility  
Available in customized specifications   
100% recycling and reusability features
Very rapid build timescales   
Acoustic Enclosure Application Areas
There occur immense industrial and commercial requirements of sound prof acoustic buildings in India. Metalspace Buildcon is committed to serve its clients, the best possible building enclosure solution which are a level above the competition and result in unrivalled performance as well as safety benefits. With sustainability at the core of our ethos, we practise innovative design and development methodologies while fulfilling world-class regulatory compliance standards. Our acoustic building structures in India are manufactured completely in-house with off-site methods and suit the following applications –    
Sound deadening of interiors   
Reducing industrial machinery noise   
Construction of auditoriums ad research facilities     
Buildings for HVAC systems, power generators and workshops     
Recording studios and institutional facilities