MS container Cabin in Chandigarh
MS container Cabin in Chandigarh
The rising concerns of resource depletion and energy crisis that we face with every growing day calls for a strong action to eliminate all the challenges through adopting sustainable and alternative methodologies as well as materials. What the prefabricated MS container cabins in Chandigarh deliver is a unique solution to save more than 70% of energy consumption during winters as well as summers, reduce construction times by more than 50% and also enable material consumption reduction by up to 45% by enabling advanced methodologies of modular MS container cabins manufacturer in Chandigarh. Metalspace Buildcon as the top MS container cabins company in Chandigarh follows a code of conduct which is strictly based upon top-notch quality control standards as well as a consistent pursuit of high performance and safety. Our company produces an advanced range of lightweight MS container cabins in Chandigarh which find diversified applications across a wide array of sectors.              
Ready to be installed at any site without the need of foundation and in swift time frames, these porta container cabins in Chandigarh from the top MS container cabins supplier in Chandigarh are reusable, recyclable and portable which enhances their residual value significantly. Committed to perform at the highest levels of precision and insulation performance, our mild steel cabin enclosures in Chandigarh are known to help save energy consumption and costs significantly while being a durable structural solution to resist environmental conditions and natural disasters as well.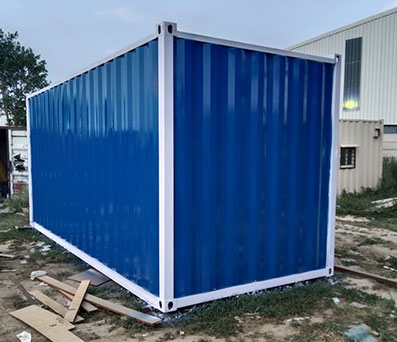 MS Container Cabin Applications
Optimal for providing exceptional safety, sustainability, longevity and portability advantages through a diverse array of application scopes, these MS container cabins can be used as all building types. The Metalspace Builtcon MS container cabins in Chandigarh as well as the liftable porta cabins in Chandigarh prove to be exceptional for their use in residential; commercial, industrial and agricultural domains as office enclosures, security pulpits, makeshift counters, worker shelters, control rooms as well as temporary construction site accommodation and canteen facilities or dormitories.
MS Container Cabin Features
Consisting of steel framed structures and with an encasing of composite panels which include dual metal outer casing sand a thick low-density sandwich of core insulation material, the portable steel cabins in Chandigarh from Metalspace Buildcon, the No.1 MS container cabins supplier in Chandigarh are known for their meticulous engineering which results in the following advanced features and product advantages – 
Predictable performance and costs      
Readymade and easy to install cabins  
Ideal thermal insulation and comfort   
Strong, robust and seismic resistant    
Lightweight construction        
Air and watertight leakproof cabins    
Zero maintenance needs    
Fire, corrosion and termite resistance