Sandwich Panels Manufacturer in Udaipur
Sandwich Panels Manufacturer in Udaipur
Metalspace Buildcon as the best sandwich panels manufacturer and supplier in Udaipur has proven to be a pioneer in its segment and produces the best-in-class range of PUF sandwich roofing panels in Udaipur and other composite panel sheets all of which result in cost savings, energy efficiency and performance enhancement in construction. As the best ranked EPS insulated sandwich panels supplier in Udaipur, Metalspace Buildcon encompasses an expertise spanning many years and being spearheaded by a team of expert engineers and designers, we have become capable of empowering high profile clients with our unique solutions that upscale technological benefits and enable better production standards.
The Metalspace Buildcon thermal and acoustic insulation sandwich PUF panel sheets in Udaipur as well as the rockwool panels in Udaipur serve cost saving features with their standardized development and minimal maintenance requirements. Our glasswool panels in Udaipur and sandwich roof EPS panels in Udaipur are proven testaments to our methodology of perpetual pioneering innovation which sustains progress and profitability for our clients across diverse sectors.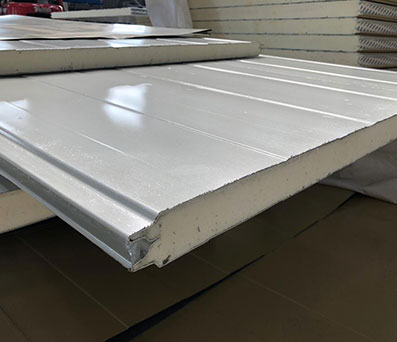 Composite Sandwich Panel Applications
As the leading ranked insulated metal wall panels manufacturer in Udaipur, Metalspace Buildcon offers panels which are flame retardant, precision engineering and lightweight building envelope solutions available in a wide array of client-specific designs to accommodate enhanced utility scopes. These panels have become a go-to solution for thermal insulation and soundproofing of industrial, residential, commercial as well as agricultural buildings by being capable of acting as wall cladding systems, roofing panels, walk-on-ceilings, floors, partition walls as well as general exterior wall enveloping systems.    
Composite Sandwich Panel Features
By reducing the energy spent in winters as well as summers for heating or ventilation requirements, the Metalspace Buildcon sandwich panel systems in Udaipur create a cost-effective solution to attain high levels of sustainability from your buildings. These state-of-the-art EPS sandwich roofing sheets in Udaipur are characterised by the following features and advantages –
Better strength-to-weight ratio
Incredible structural robustness
Quality aesthetic finishing  
Carbon negative performance  
Higher R-values for low thermal conductivity
Leakproof designs
100% environmentally friendly
Corrosion, fire and termite resistant