Sandwich Panels Manufacturer in Sonipat
Sandwich Panels Manufacturer in Sonipat
Indulged with design and development of modular and sustainable prefabricated sandwich panels in Sonipat, Metalspace Buildcon offers insulated metal wall panels in Sonipat which support rapid, reliable and safe construction solution progress. Our composite PUF panel systems in Sonipat are an ideal choice of aesthetic, durable and sustainable building enveloping solutions which come with the added benefits of modular construction for ultimate swiftness in development as well as installation. Translating into reduced construction costs, low maintenance requirements, better longevity benefits as wells improved quality consistency, the panels come with exceptional fire resistant properties and also enhance the comfort levels to an all new high.       
Metalspace Buildcon as the best PUF panels supplier in Sonipat maintains a just-in-time delivery approach and acts ethically as well as transparently to ensure that there occur no compromises with client contentment and satisfaction standards. Our sandwich rockwool panels in Sonipat help create clean, sterile and leakproof enclosures which can sustain a wide array of essential industrial, commercial, medical, pharmaceutical as well as agricultural operations with unrivalled precision, efficiency and quality control. Our commitment towards green construction remains unparalleled and exemplary in the entire industry.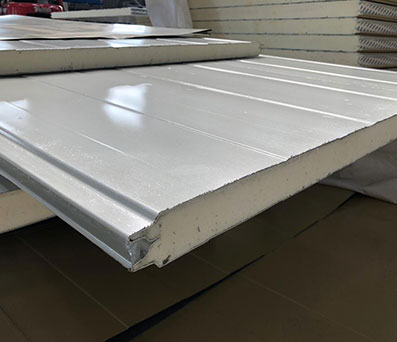 Composite Sandwich Panel Applications
Spearheaded by a team of expert engineers and designers, Metalspace Buildcon is accoladed to be the best sandwich panels company in Sonipat and we provide a wide array of composite insulated penalization systems which can be installed as insulated roofs, wall cladding systems, walk-on-ceilings as well as interior wall partitioning. Our end-to-end solutions delivery is a process orchestrated to absolute perfection and precision. We strive to achieve the highest quality standards for our PUF panel sheets in Sonipat which have become popular for use in warehouses, hotels, factory buildings, commercial centres, houses, poultry farms, vending stations and many more.     
Composite Sandwich Panel Application
Metalspace Buildcon, the leading prefabricated sandwich panels company in Sonipat offers high-end prefabricated EPS panels in Sonipat which are manufactured with automation technology features and also develops a wide range of rockwool, glasswool and EPS sandwich panels in Sonipat all manufactured with a prime intent to add value to your construction. our panels deliver the following features –                   
Pre-finished ready-to-instal panels  
High temperature insulation   
Light and sturdy build quality
Easy and fast to install  
Leak proofing of buildings possible   
Great value for money 
Minimal maintenance required 
Regulatory compliant panels