Sandwich Panels Manufacturer in Rajkot
Sandwich Panels Manufacturer in Rajkot
Designed and developed as multi-layered composite panel sheets, the prefabricated sandwich panels in Rajkot from Metalspace Buildcon are lightweight envelopes for your buildings which are robust and highly insulating at the same time. With their unique metal encasing for the core insulation materials, their insulated sandwich PUF panels in Rajkot offer enhanced thermal insulation benefits owing to their very low conductivity features. As the best insulated metal wall panels supplier in Rajkot, Metalspace Buildcon manufactures its composite panels with a strong intent to enable better energy and cost savings in building development with long-term advantages to gain owing to the maintenance-free application of these sandwich PUF roofing panels in Rajkot. We also manufacture the best EPS panels in Rajkot.           
The rockwool sandwich panels in Rajkot which we develop have a thick and low density core medium for insulation which is rated best for thermal as well as noise insulation and the fire resistant performance of all our PUF sandwich roofing sheets in Rajkot is exceptional. We are a company with a strong investment in innovation and our perpetual efforts towards attaining technical excellence marks to be a testament to our commitment of being the best sandwich EPS insulated panels supplier in Rajkot.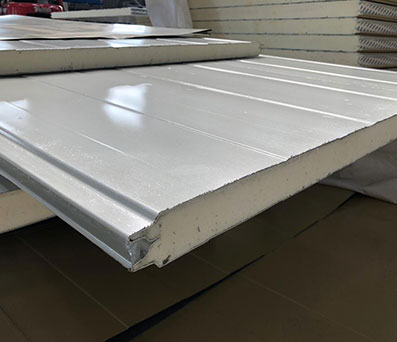 Composite Sandwich Panel Applications
At Metalspace Buildcon, the top insulated sandwich panel construction company in Rajkot we design and develop panels of a wide array of insulation materials depending upon end-user requirements. Each of our panels is designed to withstand physical as well as chemical impacts while proving to be an ideal solution for use across industrial buildings, commercial enclosures, residential; buildings, power plants, agricultural enclosures, cold storages, clean rooms as well as temporary or portable cabins. We design these rockwool panels in Rajkot and other prefabricated sandwich panels to be installed vertically or horizontally as walls, ceilings, roof systems as well as floors.       
Composite Sandwich Panel Features
The highlighted features of the insulated panel sheets from Metalspace Buildcon, the No.1 sandwich panel supplier in Rajkot include the following –       
Perfect thermal and noise blocking
Swift and easy production
Durable and robust panels
Lightweight design  
Major cost savings
Enhanced building aesthetics  
Air and water leakage prevention
Superior aesthetic finishing