Sandwich Panels Manufacturer in Noida
Sandwich Panels Manufacturer in Noida
A composite sandwich panel as the name suggests is a unique building envelope solution designed with multiple metal layers which form the exterior of the panel system for enabling structural rigidity as well as protection and a core insulation material as the sandwiched element which provides the thermal and acoustic insulation properties. Metalspace Buildcon is the top prefabricated sandwich panels manufacturer in Noida with an industry expertise that spans many years. Our competent portfolio of best-in-class sandwich PUF panel sheets and EPS panels in Noida along with a wide range of other systems suits diverse application scopes across residential, commercial, industrial as well as agricultural sector infrastructure development requisites and fulfills the same at an unbeatable market budget.                
At Metalspace Buildcon, we strive towards development of sustainable rockwool panels in Noida which exceed your green construction expectations and serve multiple R-Value benefits so as to suit the best requirements of thermal insulation across diverse climatic conditions. Customised to meet client specific requirements, our sandwich wall panels in Noida are available at an affordable price.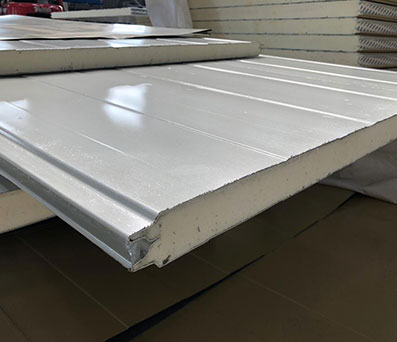 Composite Sandwich Panel Applications
For engineers, contractors and homeowners with a strong striving for green construction, we offer innovative prefabricate EPS panels in Noida which are considered to be high-performance building insulation systems showcasing exceptional thermal as well as acoustic insulation benefits. With impressive load carrying benefits, these panels are designed to accommodate a wide array of utility scopes as wall or ceiling cladding, roof systems, partition walls, exterior wall insulation, clean room panels as well as industrial acoustic envelops.
Composite Sandwich Panel Features
Posing as fast, effective, efficient and flexible solutions for high-performing building insulation, the Metalspace Buildcon PUF panel sheets in Noida deliver predictable and consistent performance and involve high-tech quality control and inspection standards in their design as well as development. Stated as follows are the top features and advantages of these aesthetic and functionally excellent panels –   
Predictable in costs and delivery     
Ready made and finished panels 
Strong, durable and rigid  
Perfect thermal or acoustic insulation 
High fire resistance benefits    
Lightweight and corrosion resistant       
Air and watertight panel systems 
Minimal maintenance requirements