Sandwich Panels Manufacturer in Manesar
Sandwich Panels Manufacturer in Manesar
Building thermal and acoustic insulation is a primary means of allowing enhanced ergonomic comfort levels for the occupants and installation of sandwich PUF panel sheets in Manesar is an exceptional means to allow for greater energy efficiency while retaining interior temperature for longer. The Metalspace Buildcon insulated metal wall panels in Manesar are designed with a combination of steel sheet layers which sandwich a core medium for insulation against temperature or sound. Our prefabricated sandwich panels in Manesar are available as PUF, EPS sheets and you can also opt for rockwool or glasswool sandwich panels in Manesar. At our facilities, we practise world-class quality control standards to design and develop the best sandwich EPS panel roofing in Manesar.            
The thermal and acoustic insulation sandwich PUF panel sheets offer additional aesthetic benefits as well and these can be installed to enhance the overall interior features and come as completely finished enveloped without requiring any reworking or painting. Metalspace Buildcon as the best sandwich panels company in Manesar stands true to its ethos of adding value and innovation to your projects through its state of the art product solutions which embody the pinnacle standards of sustainability, environmental protection, safety as well as durability.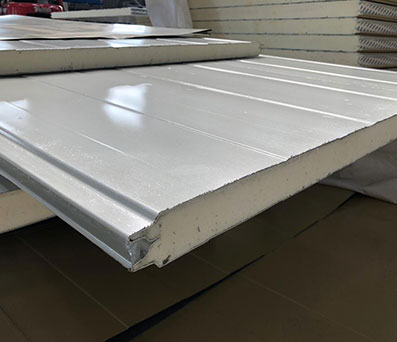 Composite Sandwich Panel Applications
The lightweight and economic solutions from the sandwich glasswool panel manufacturer in Manesar Metalspace Buildcon are primarily designed to be safe and sustainable building envelopes which can be installed in all kinds of structures. By acting as optimum solutions to block noise and thermal conductivity, these sandwich EPS panels in Manesar have become popular for their application and installation in a wide range of buildings from residential enclosures to factories to stadiums, malls to swimming pools can be classified as roof panel, wall panel, acoustic panels and cold storage panels.        
Composite Sandwich Panel Features
Characteristic of high thermal insulation and acoustic blocking performance, the Metalspace Buildcon sandwich EPS panels in Manesar are panelised structural envelops which help save 70% times in construction and prove to be critical in achieving more than 80% energy savings. The use of these panels developed by the top insulated sandwich panels construction company in Manesar help achieve the following features and advantages –            
Cost effective usage  
Thermal insulation and temperature retention
Rigid and robust structures    
Corrosion, fore, seismic and termite resistance
Easy and cost effective to maintain
Available in myriad finishing options
All weather safe panels
Lightweight construction