Sandwich Panels Manufacturer in ludhiana
Sandwich Panels Manufacturer in ludhiana
The prefabricated sandwich panels in Ludhiana from the best PUF panel construction company in Ludhiana possess exceptional structural robustness, top notch insulating properties as well as highly aesthetic finishing choices making them the best-in-class solutions for adding value to all building types. We at Metalspace Buildcon, the top sandwich EPS insulated panels manufacturer in Ludhiana develop a wide range of insulation envelopes which result in the best features of thermal, acoustic, sound and fire resistance across residential buildings, industrial enclosures, commercial infrastructure as well as agricultural buildings. Maintaining a single source responsibility through innovative design and development, Metalspace Buildcon delivers high-quality and top-notch product solutions in the form of its sandwich EPS panel sheets in Ludhiana which improve cost and schedule predictability, maintain better quality consistency and deliver value addition benefits in construction projects as well.          
The Metalspace Buildcon insulated metal wall panels in Ludhiana protect your building interiors as well as the occupants from the outdoor conditions and variables. Our prefabricated sandwich composite panels in Ludhiana not only safeguard buildings from the harsh environmental factors but combine exceptional physical or chemical impact resistance with a pioneering thermal as well as acoustic insulation performance thus making them ideal for all-round utility.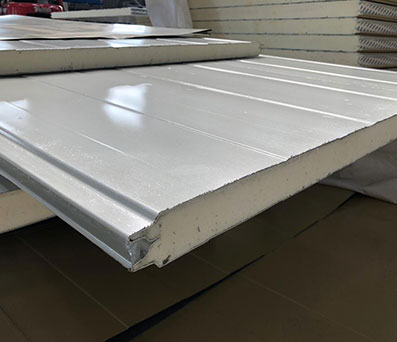 Composite Sandwich Panel Features
Available with a wide array of composite core insulating material types depending upon the utility scopes or intended applications, Metalspace Buildcon as the best sandwich roof panels manufacturer in Ludhiana develops high-grade sandwich panel systems which owing to an exceptional practise of precision engineering and sustainable development pose as safe alternatives to traditional construction across residential, warehouse, industrial, agricultural, institutional, commercial as well as temporary building enclosures. At Metalspace Buildcon, we are driven by a strong striving to excel in the design of these sandwich EPS panel sheets in Ludhiana which are available at cost-effective prices.      
Composite Sandwich Panel Features
Lightweight and durable design of the Metalspace Buildcon insulated rockwool panels in Ludhiana helps achieve exceptional product longevity and requiring very little to no maintenance, these enclosures help suffice a wide array of end-to-end requirements across the construction industry. Stated hereunder are the hallmark features of our signature prefabricated PUF panel sheets in Ludhiana –     
High R-values for low thermal conductivity
Enhanced mechanical robustness
Best water resistance and leak proofing
Peak resistance to fire, corrosion and termite action
Lightweight structural design
Affordable panel systems
Portable and reusable panels
Custom specifications available