Sandwich Panels Manufacturer in Lucknow
Sandwich Panels Manufacturer in Lucknow
Metalspace Buildcon as the top prefabricated sandwich panels company in Lucknow is invested in developing composite enveloping solutions that find a prominent use across all frontiers of building development. Our product solutions symbolize our perpetual striving of quality excellence and the sandwich PUF panels in Lucknow which we develop are capable of resisting all kinds of forces, corrosion, seismic damage as well as weather conditions. We manufacture lightweight and durable panels which are available at cost effective prices and are attractively finished. Our EPS sandwich panels in Lucknow are ready-to-install in nature and do not require any special treatment before installation.         
Opting for Metalspace Buildcon prefabricated rockwool panels in Lucknow not only protects your buildings from harsh environmental conditions but also makes sure that you are able to cherish unrivalled cost saving benefits in the longer run. Primarily used for cladding walls or roofs and as exterior wall panels, these glasswool panels in Lucknow have a higher resistance against seismic forces, fire as well as prove exceptional in their resistance against corrosion as well. We deliver these panels on time and uphold our heritage value of complete customer contentment, utmost integrity and 100% transparency in operations which are the hallmark features of Metalspace Buildcon, the No.1 sandwich panels supplier in Lucknow.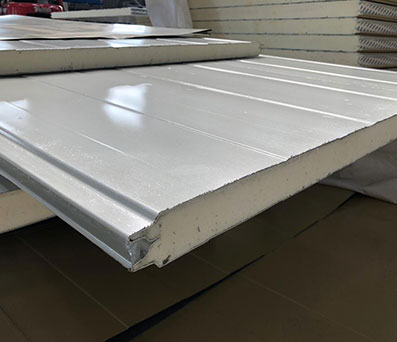 Composite Sandwich Panel Applications
Metalspace Buildcon empowers the top clientele with its state-of-the-art building enveloping solutions which pose as ideal thermal insulation systems helping achieve better energy and cost savings in construction. Our years of research and development yields the best in class EPS panel sheets in Lucknow which combine cutting edge performance with a diversified utilization scope allowing these panels to be used as walk-on ceilings, roof systems, floor or wall classing across warehouses, industrial or factory buildings, school or medical institutes, commercial enclosures, residential buildings and agricultural infrastructure as well as power plants.             
Composite Sandwich Panel Features
Lightweight design, composite dual metal layers construction, sandwiching of low density thick core insulating material and greater flexibility in use makes the Metalspace Buildcon sandwich composite panels in Lucknow a value proposition in modern day infrastructure development projects. Some hallmark features of these panels are –   
Quality finishing 
Thermal and sound insulation  
Light design with sturdy build    
Easy and swift to install     
Leak proof and weather resistant panels 
Cost effective to avail
Zero maintenance needs    
Fully compliant with safety standards