Sandwich Panels Manufacturer in Jalandhar
Sandwich Panels Manufacturer in Jalandhar
Metalspace Buildcon is proudly spearheaded by a team of industry leading designers, engineers and technicians with decades worth of expertise in the domain. As a leading insulated sandwich panels supplier in Jalandhar, we are proud of our team who are competent in the aspects of construction, development, management, testing and installation. We design and develop the best-in-class sandwich PUF panels sheets in Jalandhar which are suitable to encase all building types and are synonymous with world-class features of cost-effective devolvement, 100% sustainability, greater energy efficiency and lightweight design all resulting from their exceptional thermal or acoustic insulation properties.           
As the top insulated metal wall panels supplier in Jalandhar, MBPL is committed to innovate and pioneer the exceptional standards of performance with its sandwich EPS insulated panels in Jalandhar which we deliver at affordable prices. Practising advanced factory control standards, we at Metalspace Buildcon, the No.1 accoladed rockwool panels manufacturer in Jalandhar ensure consistent quality, greater dimensional precision, enhanced product safety as well as superlative rigidity from our state-of-the-art glasswool panel construction in Jalandhar. We deliver superior quality building insulation solutions which prove to be dependable and predictable.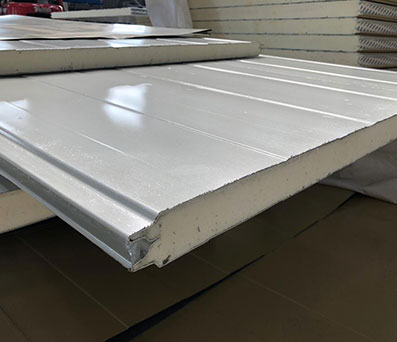 Composite Sandwich Panel Applications
Diversified utility scopes and flexible applications across all building types makes Metalspace Buildcon sandwich glasswool panels in Jalandhar a top priority to modernise your infrastructure and elevate overall, architectural aesthetics. Sandwich PUF panel sheets prove to be the forefront solutions for achieving desired thermal insulation, sound proofing and temperature retention benefits across industrial buildings, commercial enclosures, cold storages or clean rooms, residential buildings, power plants, hospitals or schools as well as warehouses and agricultural enclosures.     
Composite Sandwich Panel Features
Metalspace Buildcon, the best sandwich panels company in Jalandhar offers customised and innovative building envelope solutions in the form of sandwich PUF panel roofing in Jalandhar manufactured by state-of-the-art machinery to deliver the following hallmark features and advantages –          
Lightweight design panels  
Best fire and corrosion resistance  
Exceptional longevity and robustness  
All-weather safe panels     
Best aesthetic quality       
Recyclable, reusable and portable panels 
Top fire-resistance
Peak thermal insulation and sound proofing