Sandwich Panels Manufacturer in Jaipur
Sandwich Panels Manufacturer in Jaipur
The sandwich composite panels in Jaipur as developed by the top prefabricated sandwich panels company in Jaipur Metalspace Buildcon have proven to be perfect solutions in the construction industry owing to their unique properties of exceptional thermal and acoustic insulation as well as fire resistant performance. Combined with the speed of installation and sustainable long-term performance, these EPS sandwich panels in Jaipur have proven to be ideal for installation in kinds of buildings and their high insulation performance makes the enclosures complete leakproof thus helping save energy consumption as well as costs in the longer run.          
As the top sandwich PUF panels supplier in Jaipur, Metalspace Buildcon's building insulation solutions are uniquely designed and constructed completely in-house and the added benefits of aesthetic finishing as well as low-maintenance requirements makes these rockwool panels in Jaipur an undeniable proposition to add value to your buildings while achieving peak performance advantages as well. Our glasswool panels in Jaipur and composite panel sheets offer excellent aesthetic finishing and are designed to be completely reusable, recyclable and portable. With high-performance insulation and thermal retention, it becomes possible to maintain or retain consistent indoor temperatures for longer.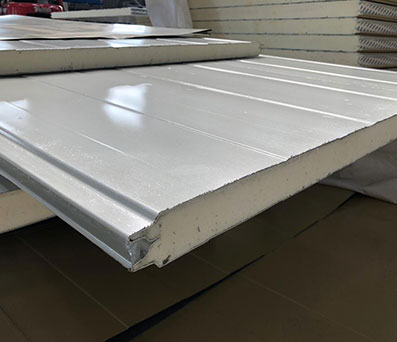 Composite Sandwich Panel Applications
Metalspace Buildcon offers prefabricated PUF panel insulation in Jaipur which is sturdy, lightweight, easy to maintain and best rated for carbon negative performance. Our sandwich insulated panels in Jaipur find successful utility scopes in construction of warehouses, industrial enclosures, cold rooms, residential buildings, clean room shelters, portable cabins as well as institutional facilities. We manufacture these panels as ceiling panels, wall cladding, flooring or roof systems as well.            
Composite Sandwich Panel Features
Reducing the radiant heat transfer process, ensuring better temperature retention and featuring complete soundproofing benefits, the sandwich panels in Jaipur developed by Metalspace Buildcon enhance building comfort levels and pose as swiftly developed as well as cost effective building enveloping systems. Our advanced capabilities and unrivalled service expertise results in development of state-of-the-art sandwich PUF panels in Jaipur which serve the following advantages –         
Maintenance free panels 
Lightweight design and sturdy construction  
Exceptional longevity and long life   
Ideal temperature and sound insulation 
Water proof, fire and corrosion resistant 
Safe from termite action  
Improved aesthetic finishing 
Custom size and specifications available