Sandwich Panels Manufacturer in Hisar
Sandwich Panels Manufacturer in Hisar
Prefabricated buildings rely on composite sandwich panels in Hisar in order to make possible the bet advantages of thermal and acoustic insulation as these state-of-the-art insulated metal wall panels in Hisar are developed with a dual metal design structure which incorporates a low density and thick core insulating material. Being very low in thermal conductivity, these PUF insulated sandwich panels in Hisar deliver peak end user functionalities ich as safety, rigidity, fire resistance, thermal insulation and weather protection. Along with providing a building its optimum protection against exterior elements, these insulated PUF panel sheets in Hisar enhance building aesthetics and make possible greater sustainability as well as energy saving features.     
As the top composite sandwich panels company in Hisar, Metalspace Buildcon offers sandwich EPS panel sheets which come with high R-value performance ratings thus resulting in very low thermal conductivity. This allows buildings to retain their interior temperature for longer which minimized energy consumption and cost savings as well. All this results in major energy savings and this translates into an economic overall building performance in the longer run. Our panels enable a superlative combination of the insulating properties of low density and thick core material panels with the enhanced strength and robustness of the exterior metal sheet panels.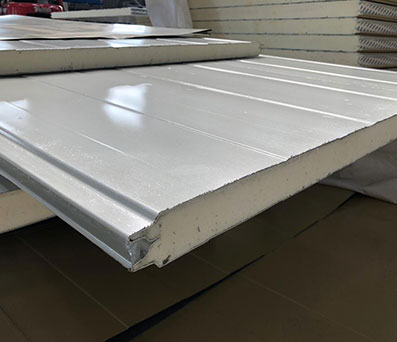 Composite Sandwich Panel Applications
The PUF sandwich panels in Hisar as developed by Metalspace Buildcon find a prime utility in their application for cladding walls, roofs, ceilings as well as building floor systems. Proving to be a staple for modern-day infrastructure development projects, these envelopes from the top rockwool panel supplier in Hisar are manufactured with a higher degree of precision.
Composite Sandwich Panel Features
As the modern innovative cornerstones in building construction, Metalspace Buildcon manufactured composite glasswool panels in Hisar protect your buildings at all times and add on to the aesthetic value as well. The hallmark features of our prefabricated sandwich panels in Hisar include –     
High strength to weight ratio
More than 50% savings in costs
Flexible application and custom design
Low thermal conductivity values
Repel bacterial growth and moisture
All-weather and climate safe
Aesthetically balanced panels
Durable and robust panels