Sandwich Panels Manufacturer in Gurugram
Sandwich Panels Manufacturer in Gurugram
Utilizing a combination of dual metal sheet structure which encases a core insulation material rich as mineral wool, PUF or EPS, the sandwich PUF panel sheets in Gurugram as designed and developed by the No.1 sandwich panels company in Gurugram Metalspace Buildcon deliver exceptional performance, strength, safety and sustainability benefits. Made available in a wide array of design and performance specifications, the insulated metal wall panels in Gurugram from Metalspace Buildcon help maintain temperature control, humidity regulation and leak proofing in buildings. With their reliable, predictable, fast and efficient operations across all building development requirements, these prefabricated sandwich panels in Gurugram embody custom construction and a world-class design while being 100% sustainable EPS sandwich panels in Gurugram.       
Built to last for a lifetime, Metalspace Buildcon as the best sandwich roof PUF panels manufacturer in Gurugram uses durable high-grade materials and follows pioneering cutting-edge technologies to develop its best-in-class PUF panel construction solutions in Gurugram. Spearheaded by a team of expert engineers and designers, Metalspace Buildcon is committed to surpass client expectation every single time and offers products with thoughtful designs and enhanced value addition scopes. We are ranked as the No.1 sandwich rockwool panels manufacturer in Gurugram.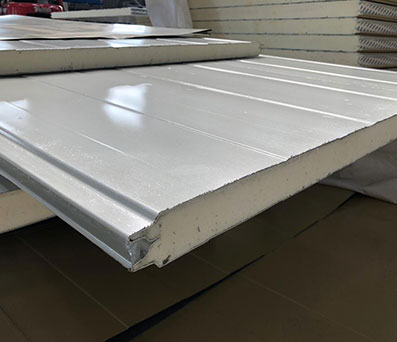 Composite Sandwich Panel Applications
The EPS, PUF, rockwool and glasswool panels in Gurugram as developed by Metalspace Buildcon are an embodiment of precision engineering capable of yielding optimum performance for thermal or acoustic insulation in buildings. In addition, our competent solutions for sandwich PUF panel roofing in Gurugram offer solutions to suit diverse purposes across commercial, residencia, agricultural, institutional as well as industrial infrastructure development.      
Composite Sandwich Panel Features
Characterized by their signature features of peak thermal and acoustic insulation performance, the prefabricated sandwich panels in Gurugram from Metalspace Buildcon provide great value addition for your projects. Their hallmark features include –     
Very low thermal conductivity and high insulation
Enhanced mechanical compressive strength
Better features of water resistance and humidity safety
Enhanced seismic, fire and termite resistance
Added advantage of lightness
Cost effective solutions
Easy to design in complex shapes
Impact resistance and sturdy build