Sandwich Panels Manufacturer in Delhi
Sandwich Panels Manufacturer in Agra
Building insulation is an imperative stage of infrastructure development which yields wide scale advantages and makes possible enhanced standards of energy efficiency. Designed as dual metal sheets encasing a sandwich layer of thick and low-density core material such as Expanded Polystyrene, Polyurethane Foam or Mineral Wool types, these prefabricated sandwich PUF panels in Delhi as developed by Metalspace Buildcon have proven to be a testament for exceptional energy efficiency and enhanced overall strength. By allowing ideal indoor conditions maintenance through enhanced thermal retention and sound proofing, these insulated metal wall panels in Delhi prove vital for all kinds of buildings and play a role in enhancing the overall aesthetics as well.              
A wide array of insulation materials can be opted for depending up-in the building's intrinsic needs and as a leading sandwich panels company in Delhi, Metalspace Buildcon has amassed an unrivalled market dominance owing to its high-tech products which are available at a cost-effective price and offer clients a 100% quality consistency and efficiency assurance. With precision design and development facilitated through a leverage of cutting-edge machine automation, Metalspace Buildcon offers EPS panels in Chandigarh which help ensure the best features of thermal insulation to maintain consistent indoor temperature for longer.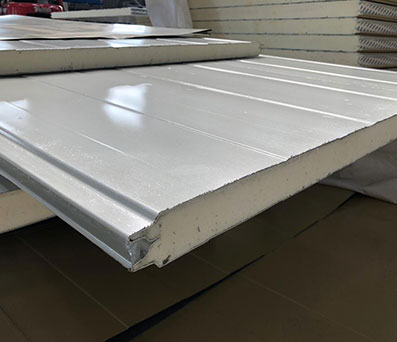 Composite Sandwich Panel Applications
Every single endeavour at Metalspace Buildcon, the top rockwool panels manufacturer in Delhi is aimed at contributing towards a sustainable future with development of high-tech building insulation energy efficient panels. Our sandwich panels are commonly used in commercial buildings, cold storages, industrial facilities, agricultural facilities, residential buildings, factory sheds, housing shelters, power plants as well as enclosures for testing, warehousing or fruit ripening.           
Composite Sandwich Panel Features
The panelised composite sheets or prefabricated PUF panels in Delhi from Metalspace Buildcon help achieve more than 50% energy savings when used in construction and as compared to traditional methodologies make possible about 30% faster development and more than 45% cost as well as wastage reduction in construction. the top features of Metalspace Buildcon sandwich panels include –    
Safe from corrosion and termite action    
Peak durability performance    
Lightweight design     
Impact resistant panels 
Leakproof and all-weather safe     
Fire safe application  
Reusable and recyclable panels   
Net zero emissions and sustainable panels