Sandwich Panels Manufacturer in Chandigarh
Sandwich Panels Manufacturer in Chandigarh
Driven by cutting-edge innovation and inspired by the myriad possibilities of technology excellence, Metalspace Buildcon as the top sandwich panels manufacturer in Chandigarh designs and develops state of the art products for you with a prime intent to enable sustainable living and green infrastructure development. Featuring a higher strength-to-weight ratio and available in a variety of core material insulation choices, the prefabricated sandwich panels in Chandigarh from Metalspace Buildcon prove to be excellent for exterior building insulation and also can be opted for as interior partition walls, cladding surfaces as well as roof or ceiling panels.         
As the leading PUF panel sheets manufacturer in Chandigarh, Metalspace Buildcon leverages its extensive capabilities coupled with a state-of-the art infrastructure for design and development to produce best-in-class insulated metal wall panels in Chandigarh. With a dominant specialization in developing high-tech insulated panels suited for any application, Metalspace Buildcon adapts faster to dynamic industry trends and furnishes a competent portfolio of top insulated panels which include the best EPS panels in Chandigarh as well as the top glasswool panels in Chandigarh.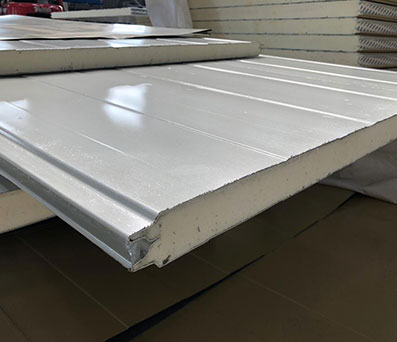 Composite Sandwich Panel Applications
Designed and developed in accordance with strict regulatory compliance standards and with a complete consideration of our client's individual specifications, these composite EPS panels in Chandigarh result from a meticulous material selection wherein only the best technologies and processes are followed. Flexible in their utilization and highly dynamic in their overall appeal, these panels from the top glasswool panels manufacturer in Chandigarh come with highly aesthetic finishing options and owing to their all-round protection against physical as well as chemical impacts, they have been a prime choice in a wide array of applications which include warehouse buildings, cold room panels, clean room envelops, industrial enclosures, factories, residential buildings, corporate offices, agricultural and husbandry infrastructure as well as for enveloping of temporary or make-shift shelters.
Composite Sandwich Panel Features
With a perpetual approach and an unhindered striving to contribute towards a sustainable future for the construction industry, Metalspace Buildcon as the best sandwich PF panels sheet supplier in Chandigarh develops innovative solutions for enhancing a building's energy efficiency and longevity. We develop dual metal layers and insulated core filled rockwool sandwich panels in Chandigarh which deliver the following amazing features –
Complete fire and corrosion resistance  
Lightweight panel design and best durability 
Exceptional longevity and water resistance 
All-weather safe and humidity proof    
Sustainable, reusable and portable panels 
Best fire-resistant properties 
Combined thermal insulation and sound proofing      
Best aesthetic finishing quality