Sandwich Panels Manufacturer in Alwar
Sandwich Panels Manufacturer in Agra
The composite insulated metal wall panels in Alwar suffice a wide range of end-to-end building insulation requirements and these also help enhance overall aesthetics as well. With the superlative performance of these prefabricated sandwich panels in Alwar from Metalspace Buildcon, you get to cherish peak standards of energy efficiency, energy consumption reductions, cost savings and significant sustainability benefits in your projects. As the top sandwich PUF panels supplier in Alwar, Metalspace Buildcon offers sandwich EPS panels in Alwar which are exceptionally lightweight, highly robust and state-of-the-art in their design. Also, these composite sandwich EPS panels in Alwar are sustainable so as to suffice the requirements of wall enveloping, roof cladding, exterior wall construction, ceiling design, interior partitioning, interior wall insulation as well as thermal or noise insulation in buildings.             
Pursuing unrivalled standards of technology excellence and leveraging high-tech machinery for design as well as development, Metalspace Buildcon as the best prefabricated sandwich panels company in Alwar has surpassed the known standards of quality and precision with its state-of-the-art range of insulated metal wall panels in Alwar. Our products are a testament to our undying efforts for achieving exceptional sustainability and peak safety all while delivering clients solutions which sustain a wide array of current as well as future construction requirements.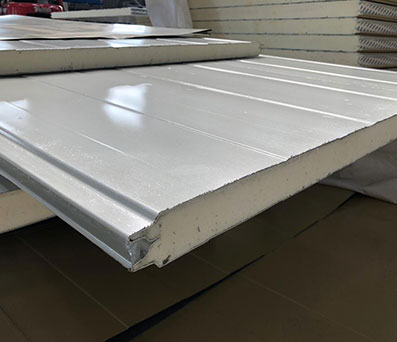 Composite Sandwich Panel Applications
The mechanical sturdiness and robustness, peak thermal as well as acoustic insulation properties and a predictable performance scope makes Metalspace Buildcon's glasswool panels in Alwar the top market choice for avail and we are also known as the best PUF, EPS and rockwool panels supplier in Alwar offering product solutions that sustain top requirements in all types of building construction projects.           
Composite Sandwich Panel Features
Composed of high-grade steel metal sheets and superlative quality core insulation medium on the form of EPS, PUF, rockwool or glasswool, Metalspace Buildcon as the best sandwich panels company in Alwar offers building insulation solutions which come with the following set of features –             
Design flexibility choices
Cost and energy savings
Environmentally friendly operation
Easy and rapid to install
Safe against fire, corrosion and termite action
All-weather and humidity safe
Best aesthetic finishing
Strong yet lightweight designs