Alleviating the complexities and inconsistencies of traditional building development, Metalspace Buildcon's prefabricated building solutions in Rajkot pose to be streamlined construction methodologies which yield highly stable and robust buildings. The top prefabricated structures manufacturer in Rajkot offers high-tech prefabricated infrastructure in Rajkot which can be fully or partially constructed in a factory and relocated as sectional components or a modular enclosure to the site. As a leading prefabricated buildings supplier in Rajkot, Metalspace Buildcon employs fully-automated factory conditions resulting in exceptional precision and greater rigidity from the prefabricated site infrastructure in Rajkot.         
Our dependable prefabricated modular buildings in Rajkot result from a lean construction approach which lowers material wastage significantly and swiftens construction timescales. Reducing rework or repair needs completely, these prefab building solutions in Rajkot require negligible maintenance and are designed to accommodate easy and fast expansion or modification. Metalspace Buildcon ranks as the No.1 prefabricated modular buildings company in Rajkot and is focused on improved health and safety at the factory as well as throughout the lifespan of these prefabricated steel buildings in Rajkot. Our innovative and customised prefabrication solutions in Rajkot offer predictable performance, costs and safety features.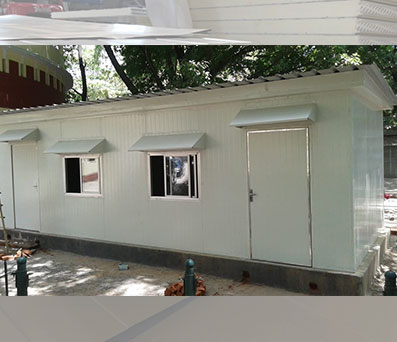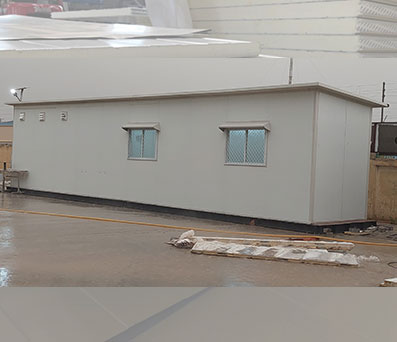 Prefabricated Buildings Applications
Featuring walls, doors, windows, floors, roofing systems and various fitments completely designed and developed in-house at off-site facilities, the prefabricated commercial buildings in Rajkot and modular structures pose as cost effective and rapid building construction strategies suitable for development of single storied houses, storage enclosures, control rooms, office spaces, medical facilities, disaster relief sheds, labourer accommodation, schools, apartment blocks, and temporary cabins.
Prefabricated Buildings Features
Prefabricated buildings in Rajkot are highly efficient and modernised structural solutions which are lightweight, heavy-load bearing, durable and safe against fire, corrosion as well as earthquakes. As the top prefabrication company in Rajkot, Metalspace Buildcon assures the following features from its prefab solutions –   
Robust technical enclosures
Energy efficient buildings
Flexible designs   
Green and eco-friendly  
Consistent in quality
Thermally insulated  
Affordable solutions
Lasting quality