As a factory standardized and alternative construction methodology, prefabrication is a forefront innovation in the sector which results in wide scale advantages in terms of cost savings, speed of build, material efficiency as well as strength of the structures. The prefabricated structures supplier in Noida Metalspace Buildcon has a vast industry knowledge and know-how and leverages the same in combination of cutting-edge automation machinery to fabricate the best-in-class prefab modular buildings in Noida. Our competent scope of expertise and infrastructure capabilities at in-house facilities allows for design and development of high-quality prefabricated metal buildings in Noida. As the leading prefabricated structures supplier in Noida, we design our prefab structures to be resistant and safe against all kinds of forces and make sure to achieve a higher quality control standards throughout the process.              
The modular prefabricated buildings construction in Noida offers a streamlined, efficient and innovative methodology to develop structures of all types. While maintaining optimum safety of the environment and keeping resource utilization in check, the top prefabrication company in Noida Metalspace Buildcon has grown from strength-to-strength and evolved to be a leader in its segment. Prefab buildings offer net-zero emissions and as these are encased in thermal insulation panels, guarantee long-term energy consumption and cost reductions as well.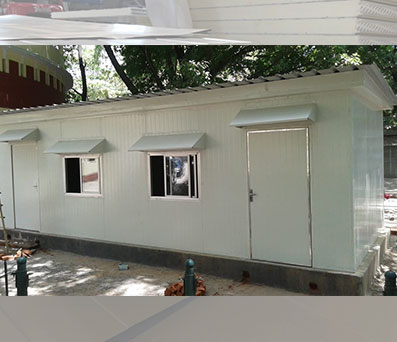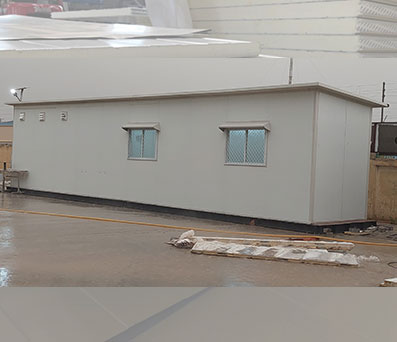 Prefabricated Buildings Applications
Prefabricated modular buildings in Noida pose as ideal alternatives to conventional buildings and suit diverse end user demands. Enhanced utility scopes make them suffice a wide array of applications across residential, commercial, agricultural as well as industrial sectors an some of the top popular applications that these state-of-the-art prefab building solutions in Noida deliver include residential houses, office buildings, worker living shelters, railway shelters, control rooms, inventory storage halls, small scale storefronts, clean room buildings as well as cold storages.   
Prefabricated Buildings Features
By following latest software designing and enabling precision engineering at its prefabrication company in Noida, Metalspace Buildcon is capable of delivering the best quality lightweight and ergonomic building enclosures which are modular in nature and result in major cost savings in development. These low cost building structures deliver the following unparalleled features –     
Steel frame durability
Design ergonomics
70% faster construction
Seismic and fire resistance
More than 50% cost savings   
Consistent product quality
Easy design modification
Quick and hassle-free relocation