Prefabricated buildings are enticing alternatives fit for use as residential, industrial, agricultural as well as commercial prefabricated buildings in Jalandhar. Defined to be the methodology of off-site construction of building enclosures as sectional components or complete modular units, prefabrication of low cost housing solutions in Jalandhar makes minimum site environment impact and guarantees peak quality levels across the process. The top prefabricated buildings supplier in Jalandhar Metalspace Buildcon eliminates the need for special foundations for construction and streamlines the process to be highly swift and consistent in terms of quality.       
One of the key aspects making prefabrication construction a viable alternative and energy efficient methodology is a strong focus on functionality features so that the occupants cherish ultimate comfort, safety and streamlined productivity of usual tasks. The low cost housing solutions in Jalandhar employ cutting-edge computer aided design and automated manufacturing process control to attain peak levels of precision, quality consistency as well as structural durability. Guaranteeing a predictable prefabricated building price in Jalandhar, Metalspace Buildcon ensures that its products fulfil diverse utility scopes and are in full compliance with the leading safety, quality and environmental regulatory standards.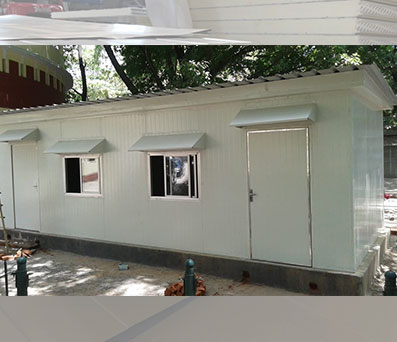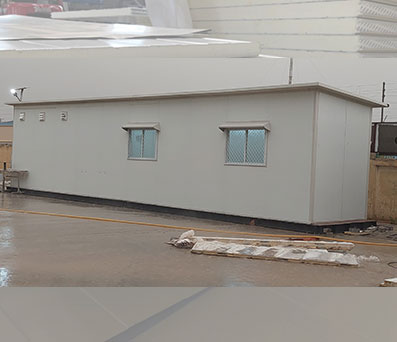 Prefabricated Buildings Applications
Strictly controlled and regulated factory production processes as well as peak standards of energy efficiency result in production of the best-in-class prefab modular buildings in Jalandhar which strive towards being competent alternatives for utilization as worker living shelters, housing facilities, staff office enclosures, factory infrastructure, school buildings, hospitals or clinics, motel buildings, clean rooms, cold storage buildings as well as control rooms or security buildings.       
Prefabricated Buildings Features
Prefabricated building structures in Jalandhar build out of steel metal framed and enveloped in sandwich composite insulated panels are fully-finished and readymade construction solutions which come with the following hallmark features and benefits –
Energy efficient buildings   
Safe for all temperatures
Metal frames rigidity
Bespoke design choices
Easy expansion
Heavy-duty use and load bearing  
Cost effective to avail and maintain   
Fully painted and aesthetically finished