With a strong contribution to the industry, communities as well as the planet, Metalspace Buildcon with its affordable and sustainable prefabricated building solutions in Hapur operates with an unrivalled ethos of transparency, quality commitment as well as integrity in order to be accoladed as a credible prefabricated buildings manufacturer in Hapur. Over our years of expertise as the best prefabrication company in Hapur, we have maintained highly scrutinised processes which result in cutting-edge testing as well as performance rating for our prefabricated modular buildings in Hapur so as to assure clients 100% safety and performance excellence every single time. Our off-site development of these prefabricated commercial buildings in Hapur result in minimal distress or impact to the actual site as more than 70% of the development takes place indoors, it makes possible the best standards of environmental protection.            
By delivering uncompromised standards of comfort, safety, quality and robustness while achieving greater cost savings, energy consumption reduction and swift construction timescales, the prefabricated buildings supplier in Hapur Metalspace Buildcon offers unique solutions which fulfil the rising demands posed by India's urbanization growth. Improving the wide array of targets in terms of qualities and efficiencies across infrastructure development endeavours, Metalspace Buildcon with its state-of-the-art manufacturing for modular prefab buildings in Hapur with a dominant unrivalled competence in research as well as development has produced the best-in-class range of prefabricated site infrastructure in Hapur.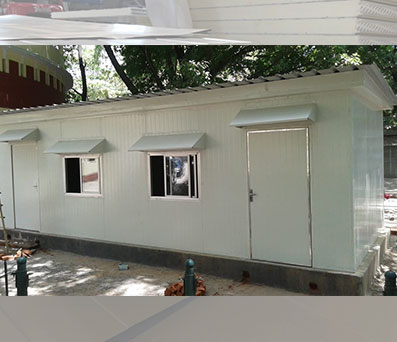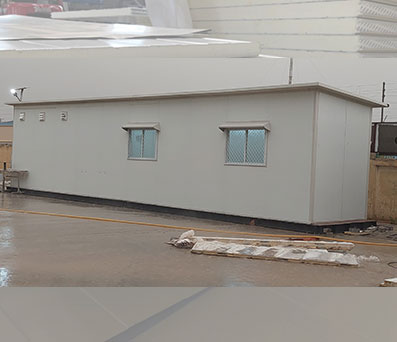 Prefabricated Buildings Applications
Prefabricated building solutions in Hapur from Metalspace Buildcon are fit to suffice endless infrastructure development requirements and these have been designed to be flexible in their utility scopes. Some popular applications of these buildings include worker accommodation shelters, control rooms, site office buildings, marketing facilities, testing infrastructure, residential structures, modular school buildings as well as hospital buildings.    
Prefabricated Buildings Features
Unrivalled structural integrity, peak quality consistency, top-notch aesthetic designs as well as the best prefabricated buildings price in Hapur make Metalspace Buildcon prefabrication solutions highly popular. These enclosures also deliver the following unique features –  
100% environmentally friendly
Strong and robust enclosures   
Easy to modify
Sustainable and eco-friendly   
Structural longevity   
Corrosion and seismic safe      
Enhanced material savings
Affordable and raid to develop