Prefabrication has emerged as a go-to methodology for building development and the high-quality enclosures from the top prefabricated buildings manufacturer in Delhi Metalspace Buildcon offer an efficient as well as cost-effective construction approach when compared to conventional alternatives. As a leading prefabricated buildings supplier in Delhi, our company develops its products as per struct quality control standards and world class safety codes. Our prefabricated buildings construction in Delhi allows organization from diverse sectors to cherish a major empowerment and upscaled development of infrastructure allowing them to grow and expand into profitable entities.     
We deliver the best in class prefabricated steel buildings in Delhi which are better in terms of quality, safety, construction, resistance and stability when compared to traditional brick and mortar or concrete structures. Faster off-site development and easy as well as rapid on-site installation from prefabricated buildings construction in Delhi proves to be a vital method of improving overall project progress as well as profitability with major cost and material savings being observed. Metalspace Buildcon as the leading prefabricated steel structures company in Delhi delivers customized structural enclosures which are highly sustainable owing to their benefits of recycling reuse and relocation.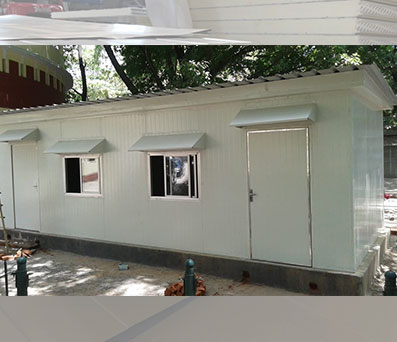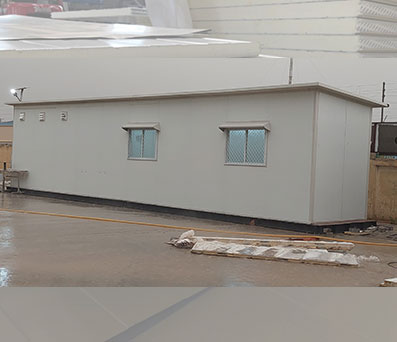 Prefabricated Buildings Applications
The solutions for prefabricated infrastructure in Delhi have proven quality and safety features which makes them suitable for literally endless purposes. The high-grade material use and durable framing from steel metal makes these modular buildings in Delhi very durable and robust. These can be designed to suffice a wide array of utility scopes which include modular housing facilities, worker accommodation shelters, multi-storey buildings, commercial enclosures, testing facilities, cold storages or clean rooms, factory sheds as well as hospitals and school buildings.    
Prefabricated Buildings Features
Metalspace Buildcon's prefabricated commercial buildings in Delhi and other modular enclosures remain to be a true measure of quality, precision and efficiency in the sector while being high-performance strictures fit for all weather conditions. These buildings deliver the following hallmark features –        
Quick development and installation
Thermal and sound insulation
Highly rigid structures
Energy-efficient buildings
Reusable, recyclable and portable
Unrivalled longevity
Quality aesthetic designs
Best prefabricated building price in Delhi