Project schedule acceleration, environmental safety enhancement, unrivalled material efficiency, cost savings as well as enhanced build quality result from Metalspace Buildcon's prefabricated buildings construction in Bhiwadi. As the top prefabricated buildings manufacturer in Bhiwadi we have successfully pioneered upscaled and innovative construction methodologies which ain to streamlined and swiften project delivery while making sure to attain peak standards of structural durability, project longevity as well as enhanced sustainability benefits from these cutting-edge prefab modular buildings in Bhiwadi. The prefabricated commercial buildings in Bhiwadi result from an industrialized construction approach which features better overall quality control standards, greater cost predictability, enhanced material savings as well as overall minimal site impacts due to off-site development.      
By redefining the standards of quality control as well as overall testing at our prefabrication company in Bhiwadi, we are capable of developing lightweight and rigid structures which can be optimized to client specific requirements. These prefabricated building solutions in Bhiwadi pose easy possibilities for redesigning, relocation, modification as well as expansion. Enveloped in thermally insulated composite sandwich panels, these solutions for prefab site infrastructure in Bhiwadi make possible best ergonomics and comfort levels for the personnel and ensure their enhanced safety at even the most demanding site conditions.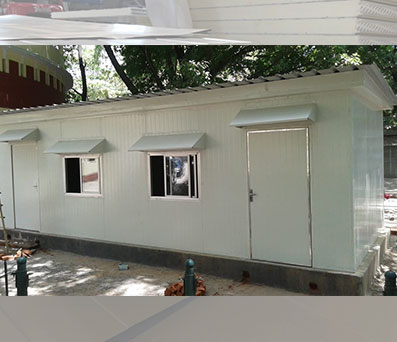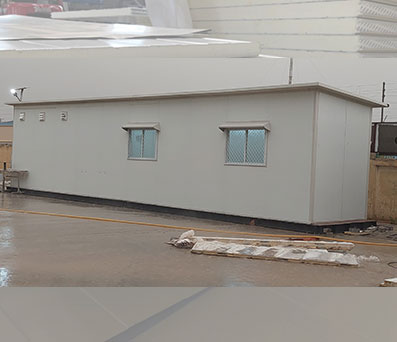 Prefabricated Buildings Applications
Prefabricated commercial buildings in Bhiwadi, site office cabins, waiting sheds. Modular site office cabins, control rooms, hospitals or clinics, academic facilities, residential housing, factory buildings as well as cold storage are a few of the top applications which these prefab structures in Bhiwadi developed by Metalspace Buildcon serve. Owing to their flexible designs, they can accommodate a wide array of functionalities fit to suffice the client specific utility scopes.         
Prefabricated Buildings Features
Modular and panelised construction of the prefabricated buildings in Bhiwadi takes place indoors at off-site factories and Metalspace Buildcon by pursuing high standards of quality consistency and process control is capable of delivering the following advantages and features from its state-of-the-art product solutions –        
Architectural flexibility
Superlative quality
Minimal maintenance needs
Corrosion and seismic resistance
Recycling and reusability
Eco-friendly enclosures  
Super-fast development
Lightweight yet durable frames