Leveraging its industry leading know-how of the prefabrication construction in Ahmedabad, Metalspace Buildcon which is ranked to be the leading prefabricated buildings manufacturer in Ahmedabad has played a pivotal role in ensuring a widescale implementation of the alternative construction methodologies across the residential, commercial and industrial sectors. Driven by an unhindered aim to promote future-ready infrastructure development, our company which is the best prefabricated buildings supplier in Ahmedabad helps empower clients by delivering them maximum benefits from these cutting-edge enclosures which are lightweight, durable, cost-effective and highly energy efficient.          
The superior quality prefabricated housing shelters in Ahmedabad from Metalspace Buildcon cater to a diverse array of utility scopes and enable easy modification as well as design alteration including swift expansion of existing enclosures. The high tech metal framed enclosures are enveloped in rigid and robust composite insulation sandwich panels offering all-round protection against harsh environmental conditions. The longevity of our prefab site infrastructure in Ahmedabad remains unparalleled and we offer low cost housing solutions in Ahmedabad which garner a huge interest for implementation across residential projects, civil construction sites and make possible eco-friendly housing alternatives.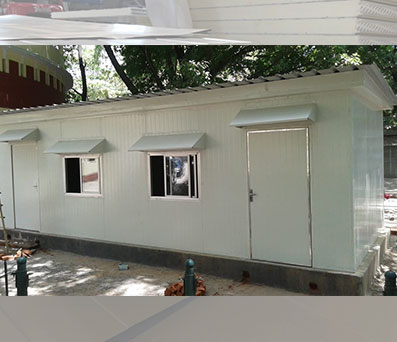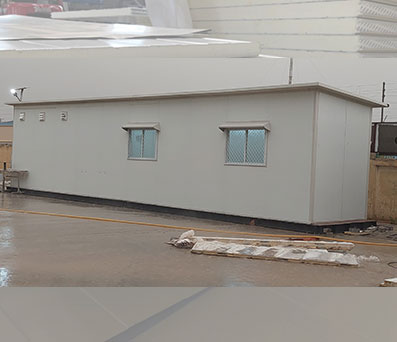 Prefabricated Buildings Applications
In the current times, the demand as well as utility scopes for prefabricated buildings in Ahmedabad have significantly risen and these environmentally friendly enclosures have become very popular in civil construction projects. Thanks to the amazing and widespread scope of design possibilities, the applications of these modular enclosures from the top prefabricated buildings supplier in Ahmedabad have become widespread across medical, industrial, residential, agricultural, hospitality, security as well as institutional sectors.   
Prefabricated Structures Application
Design excellence and ergonomic layouts coupled with high-end usability makes the prefabrication construction solutions in Ahmedabad from Metalspace Buildcon highly sought after in the industry. The versatile, reliable and robust nature of prefabrication construction in Ahmedabad is key to achieving the following features and benefit from these enclosures –         
Considerable cost savings
Readymade buildings
Minimal site invasion
Resistance to weather
Structural robustness  
Fire, termite and corrosion safe
Heavy load bearing  
Negligible maintenance