Pre-engineered construction in Rajkot as practised by Metalspace Buildcon results in development of highly cutting-edge structural enclosures which boast a prime advantage of being exceptionally structurally rigid and featuring lightweight designs. The top PEB construction company in Rajkot Metalspace Buildcon is consistently indulged in research and development of its PEB steel buildings in Rajkot which showcase prominent potential in being the ideal structural enclosures for use across heavy-duty applications in the industrial, agricultural, commercial as well as institutional sectors. As a leading pre-engineered building structure manufacturer in Rajkot, our company accomplishes all of its projects to a higher degree of quality and also supplier bespoke customised PEB metal buildings in Rajkot.      
Operating across a diversified and major clientele, the top pre-engineered building structures supplier in Rajkot Metalspace Buildcon is a market leading manufacturer and supplier of state -of-the-art PEB warehouse buildings in Rajkot as well as factory shed enclosures which are tailored to individual customer specific requirements. Our advanced expertise as a top PEB company in Rajkot in amalgam with integration of cutting-edge machinery at our off-site in-house facilities results in an unparalleled scope of innovation in the sector and makes available to the market a top-quality range of high-end PEB metal structures in Rajkot.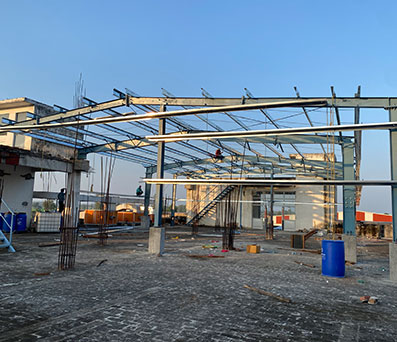 Pre-Engineered Buildings Applications
The design know-how and industry-specific practical knowledge of the leading pre-engineered steel buildings manufacturer in Rajkot Metalspace Buildcon results in development of state-of-the-art enclosures which suit ideal applications for fulfilling current as well as future infrastructure development demands made prominent by the urbanization endeavours. We offer high-quality PEB structure solutions in Rajkot perfect to be used as factories, showrooms, stadiums, exhibition halls, storage warehouses, cold storages as well as institutional facilities. 
Pre-Engineered Buildings Features
Safe, lightweight, rigid and reusable PEB buildings in Rajkot from Metalspace Buildcon pose as true value propositions in modern day infrastructure development projects. Some top-notch features of these pre-engineered structures in Rajkot are –           
Easy expansion
Quality finishing 
Light design with sturdy build    
Leak proof and weather resistant
Easy and swift to install     
Fully compliant with safety standards       
Cost effective to avail
Zero maintenance needs