Commanding a strong focus on sustainable and rapid infrastructure development endeavours, the top pre-engineered buildings manufacturer in Manesar Metalspace Buildcon is attributed with top-notch achievements in the domain and its PEB metal buildings in Manesar remain to be an unrivalled value proposition in the sector. The pre-engineered building construction in Manesar ensures that construction time spans are reduced by about 50% and the off-site development of PEB infrastructure makes the process safe from risks of weather or supply chain related delays. As the leading pre-engineered buildings manufacturer in Manesar, Metalspace Buildcon guarantees quality consistency from its enclosures and this is an exceptional attribute of our in-house developed structures. By following a repeatable and standardized process for manufacturing PEB construction solution in Rewari, Metalspace Buildcon ensures consistent quality and unmatched performance features across the board.          
Attributed to be a futuristic and modern aesthetic design construction process, the development of PEB factory sheds in Manesar can be made to accommodate a wide array of design layouts sufficing diversified application scopes. By opting for Metalspace Buildcon PEB enclosures, you get to cherish all-year round construction. As the top PEB warehouse construction company in Manesar, we guarantee higher quality builds achieved in any conditions and about 30-45% savings in terms of overall construction times as well as costs. Our peak efficiency standards and better process scheduling with predictable performances are achieved through standardization of the construction approach.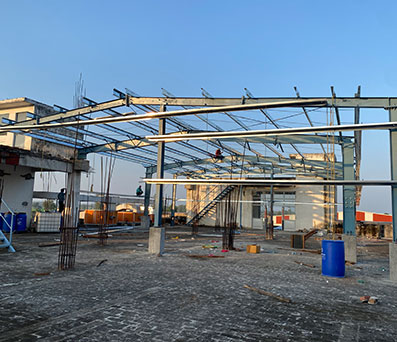 Pre-Engineered Buildings Applications
Easy expansion, quick design modification and hassle-free relocation possibilities are high with construction of Metalspace Buildcon PEB steel structures in Manesar. The pre-engineered industrial building designs feature large clear spans of more than 90 m and extra column width. We manufacture crane buildings, factory sheds, warehouses, stadiums, exhibition halls, academic institutes, hospital facilities, testing centres, manufacturing units as well as cold rooms and dairy farms.      
Pre-Engineered Buildings Features
The hallmark advantages and features of Metalspace Buildcon PEB structures in Manesar are stated hereunder –       
Structural robustness
Seismic and fire safe
Ergonomic designs
Lightweight structure
Portable frames
Flexible designs    
Just-in-time delivery
Affordable