Leveraging an advanced industry know-how derived from an expertise spanning many years, Metalspace Buildcon as the best pre-engineered steel structures supplier in Ludhiana manufactures PEB metal enclosures which can be constructed in times about 40-50% faster than conventional steel buildings. With accelerated construction timescales for development of PEB steel structures in Ludhiana, there occur amazing material efficiency benefits as well and the top PEB warehouse construction company in Ludhiana Metalspace Buildcon has set unparalleled standards owing to its state-of-the-art processes which are an orchestrated display of technical excellence and precision PEB construction in Ludhiana.        
Metalspace Buildcon manufactured best in class PEB factory sheds in Ludhiana which com with large clear spans of about 90-100 m and the column spacing for these enclosures is designed in such a way to make possible best ergonomics for industrial, commercial as well as warehousing applications. These pre-engineered metal buildings in Ludhiana come with easy modification to be transformed into crane buildings and can be installed with warehouse grade storage compartments or shelves. The top pre-engineered buildings manufacturer in Ludhiana Metalspace Buildcon is a client-centred organization focused on 100% customer contentment every single time.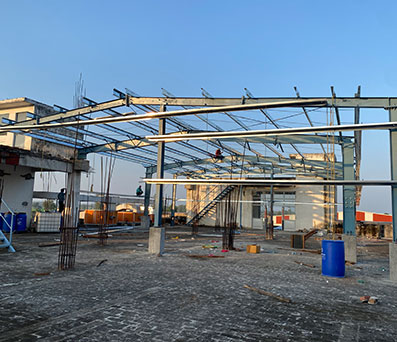 Pre-Engineered Buildings Applications
The highly competent and cutting-edge range of PEB construction solutions in Ludhiana from Metalspace Buildcon consists of a diversified portfolio of the best-in-class pre-engineered warehouse buildings in Ludhiana and other steel enclosures which are fully customizable and fit for client specific requirements. Offering great design flexibility and structural rigidity, these enclosures can be used as small-scale manufacturing units, service stations, poultry farms, cold storages, factory sheds, warehousing, clean rooms, ripening chambers, garages or hangars, stadiums as well as exhibition halls.         
Pre-Engineered Buildings Features
Thae top-notch and precision manufactured PEB steel structures in Ludhiana from Metalspace Buildcon are designed to deliver the following features as well as advantages –     
Highly rigid structures
Thermal and acoustic insulation
Reusable, recyclable and portable
Rapid development and installation
Energy-efficiency  
Product longevity
Great cost savings
Quality aesthetic finishing