Steel buildings designed and developed with PEB technology are manufactured as standard sectional components at off-site facilities and transported to the site for assembly and installation. The leading pre-engineered buildings manufacturer in Delhi Metalspace Buildcon utilized high-grade rigid steel frames as primary members for its PEB metal buildings in Delhi which are about 30% lighter than traditional steel buildings and save more than 50% in construction costs as well. These environmentally friendly and cost-effective PEB metal structures in Delhi possess amazing structural rigidity features thus proving to be ideal for utility in harsh enduring conditions.       
As the best warehouse construction company in Delhi, Metalspace Buildcon leverages its years of industry expertise and delivers top-notch solutions in the form of pre-engineered metal buildings in Delhi which have set unrivalled quality, efficiency and safety standards in the domain. Whether you require expansion of existing infrastructure or wish to embark on a new construction project, the top PEB company in Delhi Metalspace Buildcon is committed to deliver top-notch solutions which uphold the key attributes of high-quality and eco-friendly PEB construction in Delhi. We deliver these PEB steel structures in Delhi at accelerated project schedules and take leverage of our industry leading know-how while capitalizing on the advanced expertise of our engineers to furnish world-class PEB metal buildings in Delhi.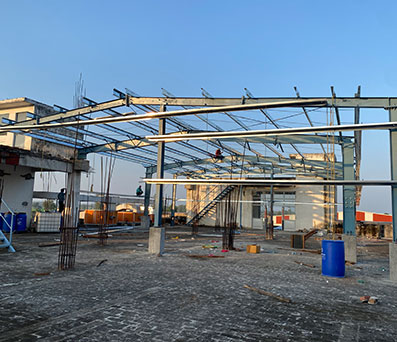 Pre-Engineered Buildings Applications
Delivered in large clear spans and designed with a wide array of functional amenities including crane fixtures, storage shelves, safety equipment as well as complete panelling, the warehouse construction company in Delhi Metalspace Buildcon offers pre-engineered building solutions in Delhi which suffice industrial, commercial, institutional, aviation, military, agricultural, recreational as well as some residential application scopes.    
Pre-Engineered Buildings Features
The hallmark features of the high-tech lightweight pre-engineered metal buildings in Delhi from Metalspace Buildcon have been stated hereunder –
Large clear spans
Low maintenance needs
Lightweight steel frames
Flexible design and expansion
Corrosion and seismic safe
Affordable PEB structure cost in Delhi
Highly functional appeal
Reuse and recycling