An ever-growing rate and pace of adoption for PEB steel buildings in Chandigarh is an undeniable phenomenon across the modern infrastructure development sector and with avail of high-tech pre-engineered building structure in Chandigarh designed and developed by Metalspace Buildcon, these innovative enclosures suffice a wide array of applications across diverse sectors. As the leading pre-engineered buildings manufacturer in Chandigarh, our company offers lightweight PEB steel buildings in Chandigarh which enable enhanced steel material savings in their structural framework and pose easy modification and expansion benefits.        
Pre-engineered Metal buildings in Chandigarh feature a steel truss framed structure which can bear intense loads and suits heavy duty applications particularly across the industrial, commercial, warehousing and agricultural sectors. Metalspace Buildcon as the No.1 PEB steel buildings manufacturer in Chandigarh has a competent in-house expertise in design and development of primary members as well as secondary members for the PEB metal structures in Chandigarh. Our PEB factory sheds in Chandigarh and other pre-engineered steel structures are more than 30% lighter than conventional steel buildings.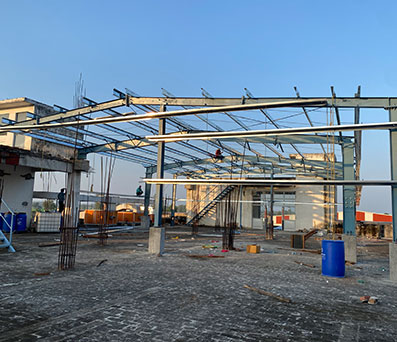 Pre-Engineered Buildings Applications
Metalspace Buildcon's PEB construction in Chandigarh is capable of fulfilling world-class product quality and efficiency standards. We maintain an industry-leading expertise for development of best-in-class pre-engineered building structures in Chandigarh which can be used as PEB warehouse in Chandigarh, factory buildings in Chandigarh, railway shelters, automobile and aeronautical industries, steel rolling mills, power plant infrastructure, workshops service stations, manufacturing plants as well as garages or aircraft hangars.   
Pre-Engineered Buildings Features
Metalspace Buildcon assures the best pre-engineered building price in Chandigarh and offers state of the art PEB metal structures with a quick and efficient design. As the best PEB company in Chandigarh, we make sure to enable a rapid and hassle-free assembly as well as installation of these enclosures which come with the following amazing features –      
Efficient design
Seismic resistance   
Best strength to weight ratio  
All weather safe
Eco-friendly construction  
High performing structures
Better residual values
Custom design