If you wish to achieve your desired infrastructure development targets and strive to pursue a higher quality standard across the board, then opting for the pre-engineered steel buildings in Bhiwadi from Metalspace Buildcon is the optimum approach. As a leading warehouse construction company in Bhiwadi, Metalspace Buildcon has carved an unrivalled market reputation and adopts international level quality control standards at its state-of-the-art PEB construction company in Bhiwadi. Leveraging use of cutting-edge automation machinery, the top pre-engineered building supplier company in Bhiwadi spearheads the advanced infrastructure development solutions delivery to support India's current urbanization wave. We offer the best-in-class pre-engineered warehouse buildings in Bhiwadi and assure clients 100% quality commitment from our advanced product range.        
Surpassing the known standards of client contentment and service excellence in the domain, Metalspace Buildcon practises in-depth quality evaluation as well as strict process control so as to make possible exceptional precision on design and development of its PEB steel buildings in Bhiwadi. As the top PEB factory sheds supplier in Bhiwadi, our company has been at the forefront in enabling a strong focus on streamlined, smarter, swift and ecological infrastructure solutions delivery in the form of its PEB metal structures in Bhiwadi.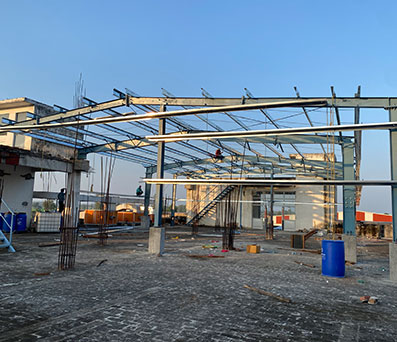 Pre-Engineered Buildings Applications
Architectural flexibility and advanced design precision are hallmark features of Metalspace Buildcon manufactured PEB steel structures in Bhiwadi. With easy design modifications possible and overall lightweight structures, these enclosures are fit to suffice a wide array of utility scopes such as the construction of factory sheds, warehouses, cold storages, exhibition halls, institutional infrastructure, supermarkets, service stations, petrol pumps as well as manufacturing units for steel or automobiles.          
Pre-Engineered Buildings Features
The lightweight and robust PEB metal buildings in Bhiwadi from Metalspace Buildcon are build on the concepts of lean construction and help achieve prominent material saving along with delivery of top-notch quality benefits. Some hallmark features of these pre-engineered metal buildings in Bhiwadi from Metalspace Buildcon include –      
Durable structures
Lightweight steel frames    
Thermal and acoustic insulation
Heavy load bearing
Greater scheduling control  
Eco-friendly construction  
Safe and sustainable   
Recyclable and reusable