Through years of research and development, Metalspace Buildcon has achieved an unrivalled reputation of being the best pre-engineered steel structures manufacturer in Ahmedabad and the company is focused on delivering to the market end-to-end steel structure solutions in the form of its PEB steel buildings in Ahmedabad which are exceptionally energy efficient and lightweight. The top-quality PEB factory sheds in Ahmedabad developed by the No.1 pre-engineered steel buildings supplier in Ahmedabad are designed to be fully-compliant with international level quality, safety and performance standards in order to make possible a superlative performance and a highly efficient operating platform for clients across the commercial, industrial, agricultural and institutional sectors.     
The state-of-the-art pre-engineered warehouse buildings in Ahmedabad from Metalspace Buildcon are factory fabricated with off-site construction processes in-house from lightweight yet rigid structural components which are standard sectional units enveloped in state-of-the-art composite insulation panel solutions for top-notch thermal insulation and acoustic control performance. These structures accommodate a multitude of high-quality features which makes them suitable for modern infrastructure development scopes. The Metalspace Buildcon PEB factory sheds in Ahmedabad are fully customised enclosures which feature large clear span areas of more than 100 m and maximum possible width spacing for column installation.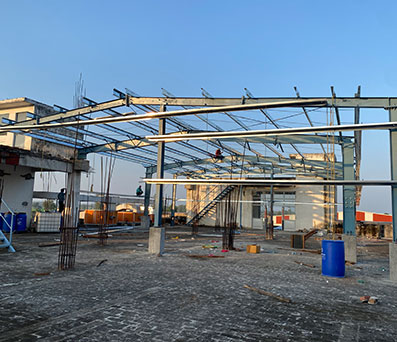 Pre-Engineered Buildings Applications
Pursuing unhindered striving for achieving greater swiftness, design precision and unparalleled structural stability performance from its PEB steel buildings in Ahmedabad, Metalspace Buildcon caters to all the diversified aspects of infrastructure development across industrial, agricultural and commercial sectors. We deliver lightweight and rigid steel buildings which can be used as cold storages, showrooms, warehouses, industrial sheds, multistoried buildings, PEB factory sheds in Ahmedabad, garages, parking facilities as well as airports or bus terminals.       
Pre-Engineered Buildings Features
As the top PEB company in Ahmedabad, Metalspace Buildcon maintains pinnacle levels of efficiency, sustainability as well as a client-oriented service delivery focus. We offer high-quality metal enclosures which prove ideal owing to their following advantages as well as features –         
Sustainable use and energy efficiency
Robust design and rigid frames   
Swift installation possible  
Better residual values
No maintenance needed   
Lightweight and reusable   
All-weather utility      
Best PEB structures price in Ahmedabad