Steel building construction in Agra from the top pre-engineered buildings manufacturer in Agra Metalspace Buildcon is a proven methodology to design as well as develop lightweight metal-framed enclosures which are renowned for their exceptional quality consistency, structural robustness, lightweight design and all-weather safety. Available as large clear span buildings which feature superlative quality, extended service life and better energy efficient designs, these PEB steel buildings in Agra offer ultimate weight reduction, peak material efficiency, high-end design stability as well as enhanced longevity. With a steel truss frame construction, the structures are lightweight and heavy load bearing so as to suit diverse applications and make possible an ideal implementation in heavy-duty utilisations.    
As a leading pre-engineered structures supplier in Agra, Metalspace Buildcon has pioneered construction advantages which incline with energy-efficient building development methodologies. Our PEB steel structures in Agra are portable and can be transported as standard sectional components to the site for easy assembly and installation. Our pre-engineered factory buildings in Agra remain to be a measure of quality and strength in the industry and being the top ranked PEB construction company in Agra, we follow streamlined methodologies and rapid construction alternatives which are consistently regulated for quality, performance, safety and energy efficiency.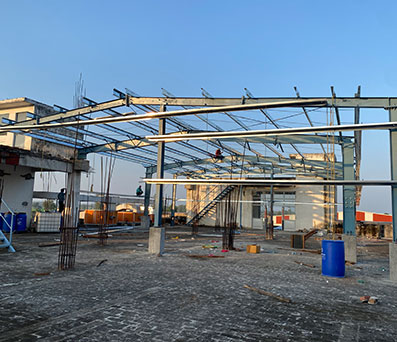 Pre-Engineered Buildings Applications
Pre-engineered construction in Agra makes best use of available resources to furnish the best quality structural solutions at a budget and available to the market at best pre-engineered building price in Agra. We design these high-tech PEB steel enclosures to be suitable for use as PEB warehouses in Agra, industrial buildings, garages, workshop facilities, service stations, pre-engineered factory buildings in Agra, steel rolling mills, cement plants, PEB manufacturing buildings as well as aircraft hangars.     
Pre-Engineered Buildings Features
Metalspace Buildcon as the No.1 PEB company in Agra through its unparalleled efforts in design and development equips industries with state-of-the-art infrastructure solutions in the form of its pre-engineered metal structures in Agra which aim at superlative quality and better productivity for organizations across diverse domains. These PEB steel structures in Agra come with the following features –    
Predictable costs
Best structural strength
Lightweight construction     
Reduced carbon footprint
Corrosion resistant steel structures
Suitable for all-weathers
Better recycling and reuse
Layout flexibility