MS container Cabin in Rewari
MS container Cabin in Rewari
Liftable, relocatable and reusable MS container cabins in Rewari designed and developed by the leading MS container cabins construction company in Rewari Metalspace Buildcon are custom-built prefabricated modular enclosures. These steel container cabins in Rewari are exceptionally lightweight which aids in their relocation and these have been designed to accommodate unrivalled strength and sustainability features. Posing as ideal flexible accommodation or office enclosures, the liftable cabins manufacturer in Rewari offers state of the art portable pulpits which pose as economical, efficient and environmentally friendly alternatives to traditional structures. These can be styled to fit diverse requirements.     
The portable nature and high strength-to-weight ratios makes Metalspace Buildcon manufactured mild steel modular container cabins the best-in-class and owing to the exceptional precision in MS liftable cabin construction in Rewari, these enclosures have become capable of resisting all kinds of forces and impacts. Synonymous with development of lightweight and liftable site office cabin and worker accommodation sheds, these prefabricated portable rooms in Rewari work as ideal accommodation and off-site office facilities for construction sites.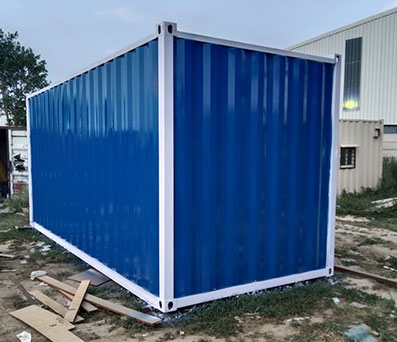 MS Container Cabin Applications
Offering you a complete and competent suite of prefabrication solutions in Rewari, the No.1 ranked steel container cabins manufacturer and supplier in Rewari Metalspace Buildcon delivers comprehensive modular construction solutions such as prefabricated portable cabins in Rewari which are versatile enclosures ideal for use as storage containers, security cabins, movable offices, control rooms, worker living or accommodation sheds as well as commercial porta cabins.     
MS Container Cabin Features
Higher quality and ease of installation are features synonymous with the mild steel container sheds in Rewari developed by Metalspace Buildcon, the leading liftable cabins manufacturer in Rewari. Posing as the best appropriate alternatives to traditional methods of building development, modular container cabins can be reused and relocated thus proving to be economical in the long-term. Their hallmark features include –       
Easy maintenance
Fully finished aesthetics
Easy to shift across sites
Sustainable and eco-friendly
Amenities included
Sturdy designs
Best MS container cabin price
Alluring aesthetics