MS container Cabin in Rajkot
MS container Cabin in Rajkot
Framing structural systems from mild steel and enveloping the same in composite insulation and robust envelops, Metalspace Buildcon manufactures its liftable portable mild steel cabins in Rajkot with a higher degree of precision and quality control. Our steel structured MS portable cabins in Rajkot are engineered and designed to suit client specific applications scopes and being flexible in nature, can be relocated and modified to serve varying utilities across different sites and sectors. As the best MS container cabins company in Rajkot, Metalspace Buildcon provides highly precise and top-quality liftable cabins in Rajkot which remain to be a measure of engineering excellence in the domains.     
These MS prefabricated office cabins in Rajkot are developed as per the exact dimensional specifications of the clients and enable greater project budget predictability as well as process streamlining all while ensuring rapid turnaround times. As the leading MS container cabins supplier in Rajkot, we enforce strict quality control standards at our in-house facilities and adopt processes which are green and highly sustainable. Our lightweight porta cabins in Rajkot make positive environment impacts and express the modern-age cutting-edge standards of precision as well as aesthetic excellence from the offsite construction approach.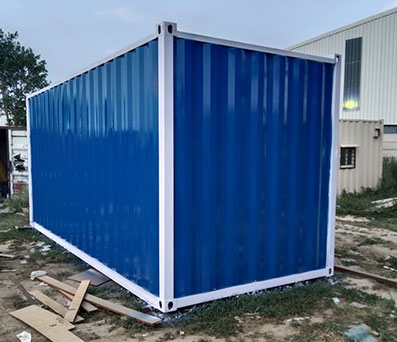 MS Container Cabin Applications
The MS portable shelters in Rajkot from the leading prefabrication company in Rajkot Metalspace Buildcon allow clients from diverse sectors to cherish significant leaps of productivity and profitability enhancement from the avail of these high-tech enclosures. Constructed from mild steel, these prefabricated pulpits in Rajkot result in durable structures and find a prominent use as housing sheds, worker accommodation, site offices, control rooms, generator cabins, dining rooms, portable stores as well as disaster relief camps or makeshift medical clinics.           
MS Container Cabin Features
Prefabricated construction and use of modular technique of development make Metalspace Buildcon prefab container cabins in Rajkot lightweight, safe, stable and robust alternatives to conventional building. Available in a wide variety of sizes and specifications, these porta cabins and security guard cabins can serve the following features –
Lightweight steel frames
More than 50% cheaper  
70% time savings       
Seismic and fire safe   
Rigid steel construction  
Large clear spans
Fully regulatory compliant
Easily portable and recyclable