MS container Cabin in Manesar
MS container Cabin in Manesar
Extended longevity, superlative aesthetics finishing and best sturdy designs make Metalspace Buildcon prefabricated portable cabins in Manesar the best in their class and highly popular for use across wide array of sectors. Owing to an exceptional focus on process streamlining and highest quality control standards maintenance, our MS container cabins construction in Manesar results in flawless products which showcase the epitome standards of technical excellence as well as unrivalled ergonomic balance. Our company yields products of non-paralleled precision and quality standards. We rank as the No.1 mild steel security cabins manufacturer in Manesar.           
The leading MS container shelters supplier in Manesar Metalspace Buildcon completely transforms the way we build. Our state-of-the-art liftable cabin sheds in Manesar are ideal to be used as temporary or makeshift structures as they are highly versatile in their designs, easy to relocate, lightweight as well as sturdy. As the best mild steel cabins company in Manesar, we are defined by a philosophy which strives to excel in the standards of technical innovation.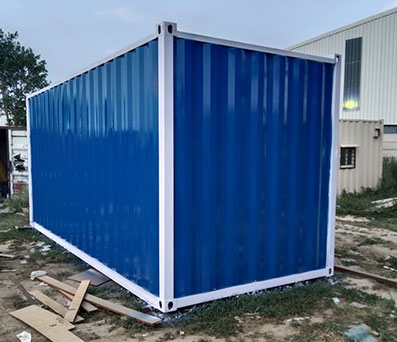 MS Container Cabin Applications
Versatile designs and uncompromised mechanical strength allow for a dynamic utility scope for these prefabricated pulpits in Manesar as they can be relocated, reused and recycled. Our manufacture of these mild steel worker accommodation shelters in Manesar has been synonymous with the initiatives of eco-friendly or green construction and these structures fit diverse usability scopes and have become highly popular for their application as security pulpits, site office cabins, labourer shelters, control room buildings as well as a wide array of residential, commercial, industrial, agricultural and institutional building sheds.     
MS Container Cabin Features
Metalspace Buildcon which is the top MS container cabin company in Manesar is invested with design and development of lightweight and liftable MS cabins sheds which have become popular for their following features and benefits –     
Long service life
Robust and durable
Thermally insulated
Hugh strength-to-weight ratios
Aesthetic designs
Corrosion, seismic and fire safe  
Ready-made modular units
High impact tolerance