MS container Cabin in Lucknow
MS container Cabin in Lucknow
The diversified scopes of application of lightweight and portable MS container cabins in Lucknow are virtually endless. These state-of-the-art porta cabins and pulpits developed by the leading MS container cabins construction company in Lucknow Metalspace Buildcon utilize high-grade mild steel frames for development which makes them suitable for multi-purpose utilities across residential, commercial, agricultural as well as industrial sectors. The liftable cabins manufacturer in Lucknow Metalspace Buildcon has a dominant history and pedigree in delivering world-class solutions in the form of its off-site constructed MS prefabricated office cabins in Lucknow. Designed and manufactured as per exacting standards as well as following globally recognised quality and performance compliance requirements, the Metalspace Buildcon steel container cabins in Lucknow feature advanced robustness and being lightweight can be relocated across sites without any loss of mechanical strength and stability. As the leading liftable cabin manufacturer in Lucknow, we are spearheaded by a team of engineers and designers with decades worth of expertise in engineering top-notch and high-performance solutions such as the prefabricated modular security container cabins in Lucknow.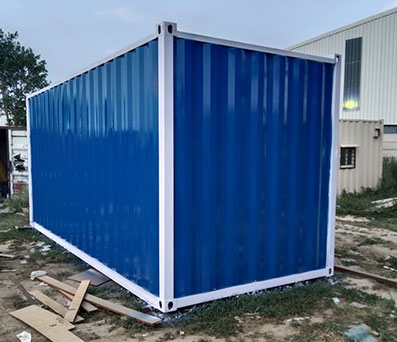 MS Container Cabin Applications
Mild steel framing and an all-round envelope of insulated composite panels makes the Metalspace Buildcon manufactured MS prefab container sheds in Lucknow suited for a diverse array of heavy-duty and normal applications as well. They can work perfectly as outdoor control; room sheds, equipment storage enclosures, site office cabins, worker accommodation shelters as well as a diverse array of makeshift structures such as natural disaster shelters and marketing pulpits.         
MS Container Cabin Features
Higher strength-to-weight ratios, advanced engineering precision and state of the art quality control all result in development of the best modular container cabins in Lucknow by the top MS container cabins company in Lucknow – Metalspace Buildcon. These lightweight liftable MS portable cabins in Lucknow suffice the rising demands of swift housing development across India and have been renowned for their following features –     
Best MS portable cabin price
Durable and robust
Ergonomic and safe
Energy efficient
70% faster to make
Corrosion and fire resistant
Sustainable cabins
All-weather suitable