MS container Cabin in Jaipur
MS container Cabin in Jaipur
Modular constructed prefabricated portable cabins in Jaipur and worker accommodation shelters or off-site offices facilities go hand in hand. Leveraging superlative technology use and spearheaded by a team of expert designers, Metalspace Buildcon's MS container cabin construction in Jaipur allows for a sustainable alternative to conventional brick and mortar enclosures. The MS prefabricated office cabins and mild steel living sheds in Jaipur can be developed in about 70% less time and at budgets which are more than 50% low as compared to traditional alternatives. Pursuing a perpetual striving to achieve the best efficiency, precision and excellence when it comes to development of liftable cabins in Jaipur, Metalspace Buildcon – the top portable cabin room company in Jaipur contributes to a sustainable future for the people, processes and communities at large. Our portable MS cabins price in Jaipur is highly competitive and we pride ourselves in maintaining an unrivalled level of ethics, transparency, honesty and integrity in all our operations as well as dealings. We focus on being a diversified and inclusive organization.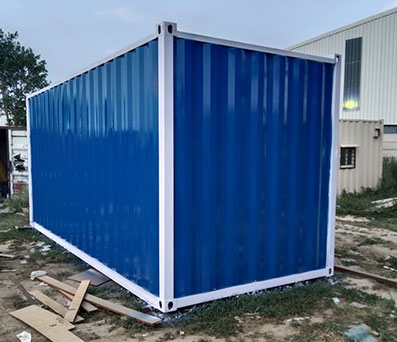 MS Container Cabin Applications
The portable, lightweight and reusable nature of Metalspace Buildcon mild steel container cabins in Jaipur makes them ideal alternative s to develop makeshift enclosures and these work best as worker accommodation sheds in Jaipur, security cabins, control rooms, equipment housing sheds, modular site office cabins as well as liftable canteen halls or dormitories. These steel container cabins can be customised to meet every type of infrastructure development requirement.     
MS Container Cabin Features
The modular and prefabricated nature of Metalspace Buildcon mild steel liftable sheds in Jaipur enables precision engineering control; as well as a dominant focus on wastage reduction, material efficiency, peak sustainability and process streamlining. The best MS container cabin manufacturer in Jaipur Metalspace Buildcon offers MS portable shelters which encompass the following features –     
Exceptionally robust enclosures
Custom design choices available   
Easy to relocate and transport
Safe for extreme weather conditions  
Energy efficient enclosures which are sustainable
100% recycling and reusability possibilities
Easy design modification and alteration
All-weather resistant and safe buildings