MS container Cabin in Gurugram
MS container Cabin in Gurugram
Mild steel which is a low carbon content steel is a highly ductile, weldable as well as workable material which allows greater flexibility in terms of its design into prefabricated M container cabins in Gurugram. The use of mild steel as a structural steel is very prominent across the infrastructure development sector and the leading MS container cabins manufacturer in Gurugram Metalspace Buildcon design and develops the best-in-class portable MS security cabins in Gurugram and a wide array of competent modular container cabins at its in-house facilities. Pioneering innovation to be able to sustain progress and profitability for its clients across the domain, Metalspace Buildcon leverages state of the art cutting-edge machinery equipment at its MS container cabin construction company in Gurugram to deliver a 100% assurance of precision, quality and efficiency from its products.  
The competent portfolio of high-tech construction solutions from Metalspace Buildcon, the leading portable cabin manufacturer in Gurugram is made to last for extended service spans and these enclosures can be developed in very short timescales and installed rapidly at any possible site. Posing as a simultaneous factory fabrication method of development, the lead methodology of mild steel cabins construction in Gurugram which takes place in controlled environments is a reliable process which is safe from the common disruptions and delays that occur to on-site builds.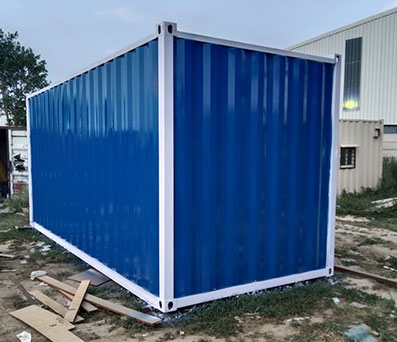 MS Container Cabin Applications
Makeshift temporary cabin accommodation is all trending in the current infrastructure development scenario and the major strides of Metalspace Buildcon in the domain as the pioneering and innovative liftable cabins manufacturer in Gurugram has resulted in development of the best-in-class porta cabins which find an optimum usability and utility scope as security cabins, construction site offices, labourer or workers shelters, dormitory sheds, control rooms as well as generator housing sheds for telecommunication sector.   
MS Container Cabin Features
As a brand, Metalspace Buildcon is proud of its many decades of expertise in the domain and continues to pursue excellent standards in terms of quality and performance of its products. The hallmark features which distinguish and differentiate Metalspace Buildcon as the top MS container cabins supplier in Gurugram have been stated as follows –        
Strong and robust
Lightweight design
Thermal and sound insulation   
Water resistant
Fire and corrosion safe
Custom design available
Affordable housing       
Portable and reusable