MS container Cabin in Delhi
MS container Cabin in Delhi
Fabricating the best-in-class MS container cabins in Delhi at a budget and with uncompromised array of quality, safety, performance and sustainability features, the top MS container cabins company in Delhi Metalspace Buildcon fosters a strong commitment to develop these lightweight MS container cabins in Delhi which are made from mild steel which is a highly treated steel type suitable for all-weather performance, safety and quality. As the best porta cabins manufacturer in Delhi, Metalspace Buildcon offer custom designed portable MS container cabins in Delhi which feature a strong construction, are capable of tolerating extreme weather conditions, are lightweight for easy relocation and showcase extended longevity benefits. The top lightweight and liftable MS container cabins in Delhi from Metalspace Buildcon can easily be transported from one site to another without these cabins losing even a bit of their mechanical properties as they are deigned to be modular in their nature.          
As the No.1 MS container cabins construction company in Delhi, Metalspace Buildcon offers MS Portable Cabins for use at construction sites as worker accommodation sheds, control rooms, dormitories and makeshift offices as well. These portable MS container cabins in Delhi are in complete conformity with our clients' specific requirements or needs and by making use of high-grade mild steel material for construction and following rigorous quality control standards at our in-house facilities, we are able to guarantee the sturdy construction and fine finishing of these steel portable cabins in Delhi.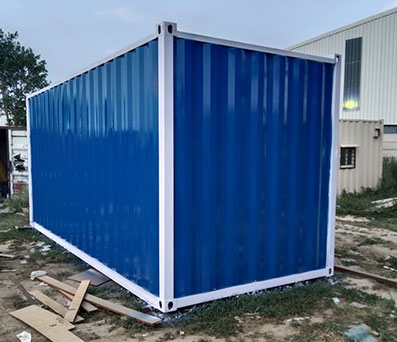 MS Container Cabin Applications
Metalspace Buildcon manufactures a wide range of MS container cabin sheds in Delhi which can be designed as security cabins, worker shelters at construction sites, temporary offices, disaster relief sheds, emergency infrastructure, makeshift medical sheds, waiting shelters, control rooms and much more.      
MS Container Cabin Features
Highlighting peak attributes of quality consistency ad efficiency, the MS container cabins from the top mild steel portable sheds manufacturer in Delhi are primarily used in construction and infrastructure development project sites. We deliver customized steel cabin enclosures n Delhi to our customers and manufacture the same in a wide array of capacities depending upon end-user requirements. These are relocatable and easy to install anywhere and serve the following features – 
Affordable rate and swift construction
Low maintenance costs
Strong, durable and rigid  
Robust construction
Simple to use and maintain
Ergonomic and comfortable  
Environmentally friendly enclosures
Suitable for all locations