MS container Cabin in Dehradun
MS container Cabin in Dehradun
Material selection, construction streamlining, enhanced testing standards as well as peak performance benefits make Metalspace Buildcon manufactured MS prefabricated office cabins in Dehradun the best in class. As a leading prefabricated portable cabins manufacturer in Dehradun, Metalspace Buildcon pursues a unique philosophy dominated by an unhindered striving for quality excellence and unrivalled precision in the designs. Our modular MS container cabins in Dehradun are exceptionally lightest and have a strong as well as robust construction which makes them suitable for resisting all load type and weather conditions. Throughout their lifespans, these enclosures from the top MS container cabin supplier in Dehradun help suffice the needs of an energy efficient and cost-effective accommodation primarily in make-shift applications and being relocatable, these liftable cabins in Dehradun can be transported across sites.         
These make-shift accommodation shelters in Dehradun from Metalspace Buildcon, the leading MS container cabin construction company in Dehradun are known for their portable nature and allow contractors to develop a swift and streamlined solution for emergency housing facilities as well. Featuring a tough construction, the mild steel container cabins are ideal to be used in all environmental conditions and weather types. We assure you the best MS portable cabins price in Dehradun and stay committed to deliver these enclosures on time and with the best assurance of ultimate longevity and safety.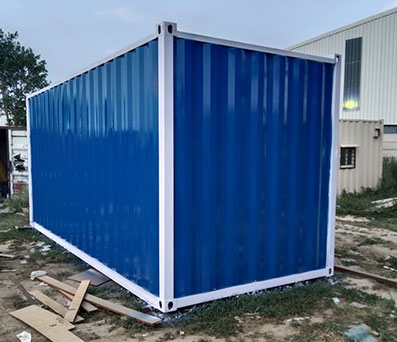 MS Container Cabin Applications
Designed and customised to meet every construction requirement, the MS prefabricated office cabins in Dehradun and steel container pulpits are accoladed to be proven solutions which enhance site productivity significantly and enable a safe as well as sustainable accommodation for workers while enabling development of security cabins, off-site offices, control rooms, waiting sheds, marketing pulpits, storage units as well as other portable accommodation enclosures.
MS Container Cabin Features
Designed with a prime intent to make worker accommodation and site office construction cost effective as well as rapid, the mild steel container cabins supplier in Dehradun offers a wide array of prefab portable pulpits which are known for their exceptional quality, safety and longevity features. The hallmark features of these liftable steel cabins in Dehradun include –    
Enhanced design precision
Best mechanical robustness
Lightweight structural design
Custom specifications available
Energy efficiency
Fire, corrosion and termite safe     
Affordable pricing        
Portable and reusable sheds