MS container Cabin in Alwar
MS container Cabin in Alwar
Metalspace Buildcon as the leading mild steel container cabins manufacturer in Alwar has a proud heritage of development of the best liftable MS cabins in Alwar which showcase pinnacle performance and quality features while making possible sustainable structural development. Spearheaded by a team of expert engineers and having trained manpower at its in-house facilities, the MS container cabins construction company in Alwar showcases consistent progress which is symbolic of the true nature of the brand and its ethos of high-quality construction development. Our liftable portable cabins in Alwar are constructed from mild steel and being modular in nature can be installed as ready-made enclosures across all types of sites.     
The leading prefabricated pulpits manufacturer in Alwar Metalspace Buildcon utilized proven methodologies and leverages use of cutting-edge automation machinery to deliver products designed with a productive, sustainable, efficient and affordable approach. We assure our clients the best portable MS cabins price in Alwar and assure peak standards of precision build which makes these enclosures highly desirable in the market.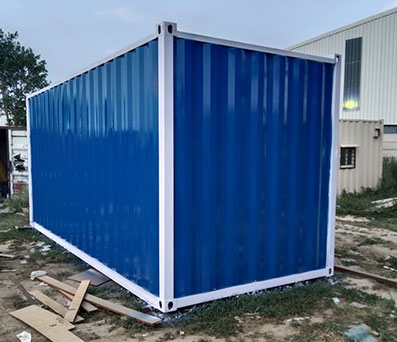 MS Container Cabin Applications
Following a strict code of conduct and fostering a pioneering spirit of precision engineering, the top MS prefabricated office cabin supplier in Alwar Metalspace Buildcon follows a proactive innovation-focused approach of development for its MS portable shelters in Alwar and continues to grow from strength-to-strength while accumulating a vast resource of industry know-how and process knowledge. Our lightweight liftable steel cabins in Alwar are popular for use as permanent shelters as well as makeshift office cabins, control rooms or housing accommodation sheds in Alwar.     
MS Container Cabin Features
Targeting improved living and enhanced sustainability focus, Metalspace Buildcon as the No.1 prefabricated pulpits company in Alwar has a vision which establishes a strong priority on assuring 100% client contentment. Our code of conduct and an unrivalled quality driven approach poses as a testament to our commitment towards delivering clients the following advantages and features from these prefabricated portable cabin rooms in Alwar –      
Swift to develop
Lightweight and portable   
Reusable and recyclable  
Corrosion and earthquake safe  
Thermal insulation
Comfortable ergonomic
Enhanced aesthetics and designs
Rain and humidity safe