MS container Cabin in Ahmedabad
MS container Cabin in Ahmedabad
Metalspace Buildcon as the No.1 portable liftable shelters manufacturer in Ahmedabad offers a wide range of modular prefab solutions such as the portable liftable steel cabins in Ahmedabad which can be relocated and reused at different sites. Every step of our MS container cabin manufacture in Ahmedabad is designed to maximize productivity while minimizing wastage. We offer the best modular container shelters in Ahmedabad which can be reused, recycled and relocated across different sites. The MS prefabricated office cabins in Ahmedabad as well as other liftable steel sheds in Ahmedabad can be easily moved and relocated to any required location. They do not need any new foundation for installation. Our portable MS cabin offices in Ahmedabad pose as appropriate solutions for all types of construction requirements and their advanced design features make them suit a wide array of purposes. The Metalspace Buildcon steel container cabins in Ahmedabad are developed by a competent and expert panel of engineers, architects and workers with a focus on client input as well.      
Made from high grade mild steel, these MS container cabin shelters in Ahmedabad are corrosion resistant and can withstand all types of weather conditions. The material toughness combined with ergonomic balance and applaudable aesthetics makes these enclosures from the top liftable cabins manufacturer in Ahmedabad a high priority market choice and best-favoured solutions to adopt for a wide array of utility scopes.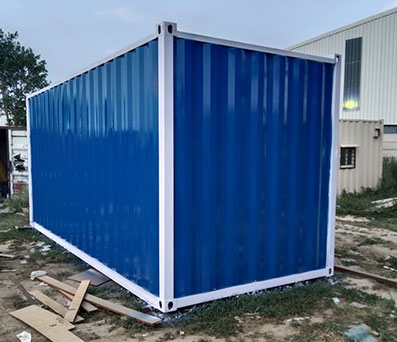 MS Container Cabin Applications
Metalspace Buildcon steel structure porta cabins in Ahmedabad are custom-built for a wide range of applications which include security cabins, site offices, industrial sheds, storage containers, worker living shelters, portable toilet units, control rooms, dining halls as well as makeshift testing facilities. The use of these liftable portable cabins in Ahmedabad is also vital in construction of temporary and emergency shelters in natural disaster affected areas as well as for developing medical clinics and makeshift hospitals.    
MS Container Cabin Features
The versatile porta cabin steel buildings in Ahmedabad are fit for installation in any site and conditions. These enclosures offer the following hallmark features and advantages –     
High durability  
Complete finishing    
Best strength to weight ratio   
Easy maintenance  
Affordable MS container cabin price   
Thermal and noise proofing  
No foundation needed  
Advanced mobility